"I'm ashamed that I knowingly let injustice happen and did nothing to oppose it," Hanning (pictured above) told the court in Detmold, in western Germany.
In making his remarks, the former Nazi guard at the German camp was finally breaking the silence he had maintained over the course of 12 hearings, limited to two hours each because of his failing health.
"I want to tell you that I deeply regret having been part of a criminal organization that is responsible for the death of many innocent people, for the destruction of countless families, for misery, torment and suffering on the side of the victims and their relatives," Hanning read out from his statement.
"I have remained silent for a long time. I have remained silent all of my life," he added.
Survivors demand more details
Earlier during the hearing, Hanning's lawyer Johannes Salmen gave a detailed account of his client's life and his time in Auschwitz. In a 22-page-long document, Hanning said he joined the SS after his stepmother, a member of the Nazi party, urged him to do so in 1940. He was 18 at the time. He took part in several battles before being injured in his head and leg. He was sent to the Auschwitz concentration camp in Nazi-occupied Poland after being declared unfit for war.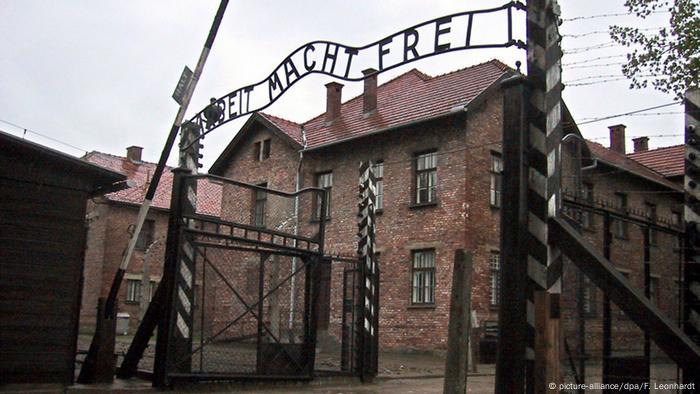 Entrance to the former German Nazi camp Auschwitz
Salmen quoted the former guard as saying that no one spoke to him about what was happening in the initial days that he was there, but that he soon learned what was going on: "People were shot, gassed and burned. I could see how corpses were taken back and forth and moved out. I could smell burning bodies; I knew corpses were being burned."
"I've tried to repress this period for my whole life. Auschwitz was a nightmare. I wish I had never been there," the statement ended.
Holocaust survivor and co-plaintiff Leon Schwarzbaum said he accepted Hanning's apology, but could not forgive him. "I lost 35 family members; how can you apologize for that? I am not angry. I don't want him to go to prison, but he should say more for the sake of the young generation today because the historical truth is important," Schwarzbaum insisted.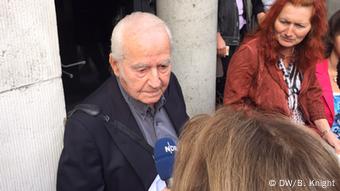 Holocaust survivor Leon Schwarzbaum
Last Nazi trials
Prosecutors, including those in Dortmund and 40 joint plaintiffs from Hungary, Israel, Canada, Britain, US and others in Germany have accused Hanning of facilitating the deaths of at least 170,000 people in Auschwitz. A total of about 1.2 million prisoners, mostly Jews, were held at the German Nazi camp.
Prosecutor Andreas Brendel said Hanning's statement on Friday could help win a conviction. "Today's statement contributed a little more to establish that he was there, because he admitted that, and more importantly to the fact that he knew about the killings in the main camp - that is also a crucial fact," Brendel said.
A verdict is expected on May 27. If found guilty, Hanning could face 15 years in prison.
Owing to the time that has elapsed since the crimes, the trial will probably be one of the last linked to the Holocaust, when more than six million people, largely Jews, were exterminated under the regime of Adolf Hitler from 1933 to 1945. Another man and a woman are also accused of being accessories to the deaths at Auschwitz. A third person, who also served as a guard at the German camp, died earlier this month, days before his trial was due to begin. He was 93.
mg/tj (AP, Reuters)