In June 1941, the German army marched into eastern Europe and a bloody and brutal occupation followed, which included the systematic extermination of the Jewish people.
"The murder of Europe's Jews did not begin in Auschwitz but as the German army swept through Poland, Ukraine and Belarus," said Rabbi Andrew Baker from the American Jewish Committee (AJC), speaking in Berlin.
The AJC is one of the groups which are working together to help unearth the forgotten graves of hundreds of Jewish victims who were murdered by "mobile killing units, aided by regular soldiers and local collaborators."
Finding the graves
Over a thousand mass graves have been identified in Belarus, Poland, Russia and Ukraine by the French volunteer association "Yahad in Unum," led by Catholic priest Patrick Desbois.
Rabbi Andrew Baker wants to turn the graves into memorials
They spoke to eyewitnesses of the massacres and documented their testimonies.
Now, an initiative between the AJC, together with the German war graves committee and Jewish organizations in Europe, wants to convert five of the grave sites in Ukraine into memorials.
"Many of these graves are unmarked, untended. Some in remote sites in the forest, while others are close to towns and villages," said Baker.
The graves are in various states, some buried under grass and soil, others more obvious. Project leader Jan Fahlbusch told Deutsche Welle that in some cases, bones could be found right at the surface, "as people dug the graves up to look for items of value."
Never forgotten
The initiative has been aided by a 300,000 euro ($408,000) fund from the German Foreign Ministry.
It is important this money goes towards education, said Eduard Dolinsky from the Jewish Committee of Ukraine, where half a million Jews were victims of the Nazis.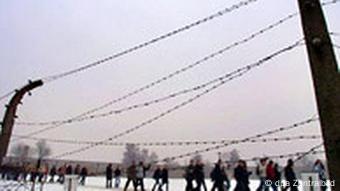 The AJC say memorials are important for educating younger generations
"There is a tendency in society to forget what happened," Dolinsky told Deutsche Welle. "Children and young people don't learn about these things any more."
The AJC in Berlin agreed that education for future generations is a key reason for the project so that they can "understand the lives that were extinguished."
Race against time
The problem the teams face is that the eyewitnesses to the Nazi massacres of the 1940s are now in their 80s and 90s.
Gathering the testimonies of these people is vital for discovering the location of more graves that have been hidden for decades.
This year, teams from the Yahad in Unum group will make 15 research trips in Belarus, Poland, Russia and Ukraine to try and source more information, said group member William Mengebier.
"We'll drive up and down the back roads, knocking on doors and asking the elderly: 'Did you live here during the war?'" said Mengebier.
Author: Cornelia Rabitz (cb)
Editor: Nancy Isenson