The Italian populist government's plans to increase public spending while deepening its debt level would leave the country vulnerable to economic shocks, the Fitch ratings agency said on Friday as it downgraded Rome's debt outlook to negative.
In a statement, the New York-based agency said it expected the Italian government to push ahead with "fiscal loosening," leaving its "very high level of public debt more exposed to potential shocks."
Despite the downgrade in its outlook, Italy will still maintain its BBB rating.
Ahead of the announcement, Italy's short-dated bond yields hit a three-month high, with the two-year rising to 1.46 percent, the five-year to 2.58 percent and the 10-year to 3.25 percent.
Italian investors were further spooked on Friday after a senior official in Rome warned the government could exceed the European Union's three-percent deficit ceiling next year as part of a nationwide infrastructure investment program following the Genoa bridge collapse.
Italy's 'new and untested' coalition
Fitch warned that Italy's new governing coalition — made up of the anti-establishment 5-Star Movement (M5S) and the far-right League party — would only compound potential risks facing the country.
The parties came to power in elections that jolted Italy's mainstream parties. However, aside from their anti-immigration stance and outspoken criticism of the European Union, the two coalition partners have relatively little common.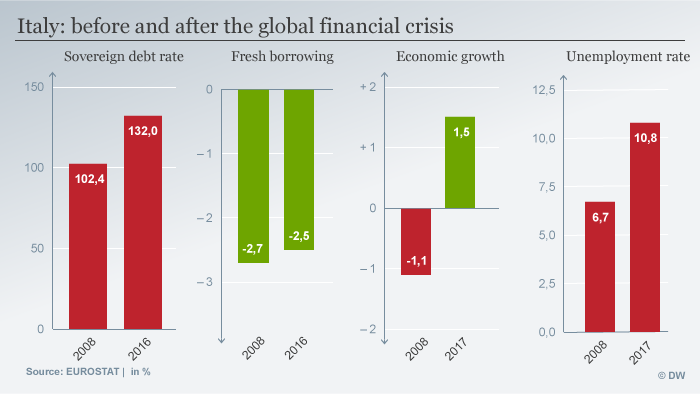 Fitch warned that the risks facing Italy had grown since the beginning of the year, given "the sizable policy differences between its coalition partners, and inconsistencies" between some electoral promises, as well as the "stated objective to reduce public debt."
"It is unclear how these policy tensions will be resolved," Fitch added.
Read more: Italy and the eurozone: the cloud returns
Spending binge
M5S, the senior partner in the coalition, won a majority of votes in May's general election after promising to increase spending while also slashing taxes.
However, the party's spending plans would triple the previous government's budget deficit goals by next year. It is also almost twice as high as Economy Minister Giovanni Tria has indicated he would be prepared to accept, according to Italian newspapers.
Italy is the eurozone's third largest economy but also one of the most indebted. In 2017, it recorded a debt level equivalent to over 130 percent of gross domestic product.
Every evening at 1830 UTC, DW's editors send out a selection of the day's hard news and quality feature journalism. You can sign up to receive it directly here.
dm/aw (AFP, Reuters)