German Chancellor Angela Merkel held talks with Italy's new populist prime minister, Giuseppe Conte, on Saturday and invited him to Berlin for further discussions on the two countries' future relationship.

The chancellor's office said in a statement that Merkel had congratulated Conte on becoming prime minister. During the phone conversation, the two leaders emphasized the importance of "continued close bilateral cooperation," the statement added.
Read more: Who is Italy's prime minister, Giuseppe Conte?
Conte, a little-known Italian law professor, has mostly kept quiet since being sworn in on Friday, but he announced on Facebook that, along with Merkel, he had also held talks with France's Emmanuel Macron on Saturday. He said he would meet the two leaders at next week's G7 summit in Canada, where he will be a "spokesman for the interests of Italian citizens."
Merkel has remained among the calmer voices when it comes to assessing Italy's new governing coalition, made up of the anti-establishment 5-Star Movement (M5S) and the far-right League.
Both parties campaigned on a policy platform that was characteristically hostile toward the European Union and the euro. Now that the parties are in power, it remains to be seen how far M5S and the League intend take the fight to Brussels and Frankfurt.
Read more: Opinion: The problem is populism, not just Italy
The chancellor's composure has not necessarily been reflected elsewhere in Germany. The latest edition of German weekly Der Spiegel, published on Friday, featured on its cover a forkful of spaghetti with a dangling strand tied together as noose. "Italy is destroying itself — and dragging down Europe with it," the headline read.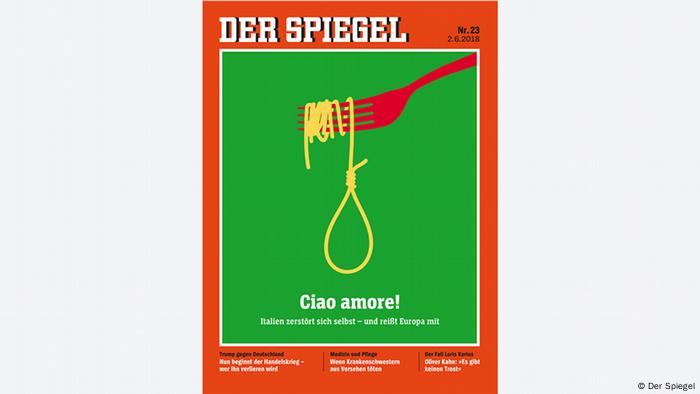 Merkel on Italian calls for debt relief
Shortly after speaking to Conte, reports emerged of Merkel appearing to rule out any possibility of Italian debt relief.
In an interview with Germany's Frankfurter Allgemeine Sonntagszeitung, due to be published on Sunday, Merkel said solidarity among eurozone members should not turn the single currency bloc into a "debt union."
Read more: Italy and the eurozone: The cloud returns
The German chancellor was responding to reports that the Italian government plans to ask the European Central Bank (ECB) to forgive some €250 billion ($292 billion) in debt. The ECB issued a statement saying the European treaties would not allow for such a move in the first place.
When asked how she intends to deal with the new populist government in Rome, Merkel said she would "approach the new Italian government openly and work with it instead of speculating about its intentions."
dm/cmk (dpa, Reuters, AFP)Every evening at 1830 UTC, DW editors send out a selection of the day's hard news and quality feature journalism. You can sign up to receive it directly here.