Trionfale market in Rome's Prati district is not a tourist attraction. This is where locals go to stock up on top-quality produce — cheese and meat, including fresh buffalo mozzarella, artichokes and zucchini flowers. The market offers everything a true Italian food enthusiast could want. But times are changing, with more and more young Italians buying groceries in budget supermarkets and eating fast food.
Italy's working people are struggling
"The market used to be bustling; everyone was busy working," recalls 52-year-old Enrico, who runs a sausage and cheese stall. For 26 years now, the market has been his workplace. "Now look around you. There's nobody apart from a few elderly people. I have two daughters who don't work and go to university, I have loans to repay, and I often don't know how I'll make it to the end of the month." He adds that 54 million other Italians have problems just like him.
Read more: The problem is populism, not just Italy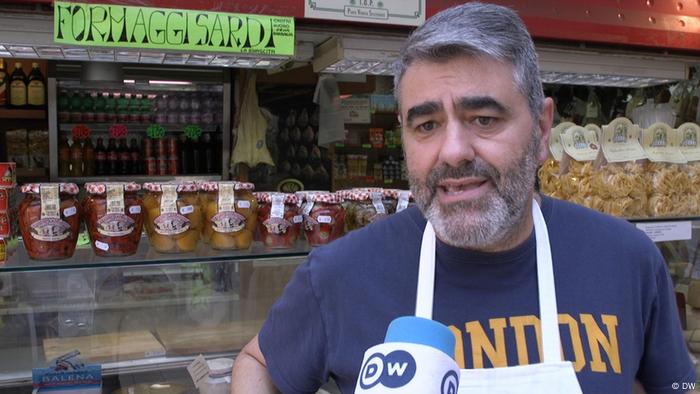 Grocer Enrico has placed his hopes in Italy's populists
These are symptoms of Italy's persistent malaise: its weak welfare system, high youth unemployment, clientelistic labor market, the nepotism in awarding jobs and its dysfunctional public administration. And what we are witnessing now is the "common man," feeling left behind and ignored, standing up to Italy's mainstream parties and privileged elite — by backing the country's populists. Enrico, for instance, says he wrote "dozens of letters to Prime Minister Matteo Renzi's office, asking for help to repair the market roof." But he never received a reply. Enrico now places all his hope on Italy's prospective populist coalition. "I hope that reason will prevail amid this crisis, and that the people's will is respected. They voted for Luigi Di Maio and Matteo Salvini so they should govern." He thinks President Sergio Mattarella should not have interfered in the coalition building and the parties' choice of ministers.
Simple answers to difficult questions
Enrico is fed up with reading headlines warning of "financial earthquakes" that may result from the rise of Italy's populists. "If we're to stay in the eurozone, Germany and France will need to make fundamental changes. We have so much debt and it makes no sense continuing like before. If we had a referendum on the issue, I'd vote to leave the eurozone," he says.
He does not really consider national bankruptcy a serious threat. After all, he says, Italy is a strong nation. "I want Italy to be on one level with Germany and France." Like many of his compatriots, Enrico suffers from a political inferiority complex, thinking that Italy has been disadvantaged for years. That is why he now supports the head of the far-right party The League, Matteo Salvini, who has been promising to put Italians first. Polls suggest that Salvini's popularity is rapidly increasing and that his party could come in first place if snap election were held.
Read more: Italy and the eurozone: the cloud returns
Enrico is convinced that "we're in this crisis because for 15 years either Berlusconi or the Social Democrats governed this country." He says they did nothing for people. "They only served the banks. And now, I support the populists!" Even if a populist government fails, he thinks it's the only change ordinary Italians have left.
Many other Italians think just like him. Among those stocking up on groceries at Trionfale market, a number are angry and frustrated. "It's unbearable! We're at the mercy of Germany and France," rants someone standing at a stall next to Enrico's. And the owner of a stall specializing in honey and eggs complains that "people voted for the coalition, so it should be in power, and Mattarella should have given them the mandate." A vegetable monger, meanwhile, takes a more moderate view, saying: "I don't know anything about politics, but he should have given the young politicians a chance."
Only one older woman disagrees: "I could pull my hair out! Everyone wants to get into power but nobody wants to properly govern. Mattarella did the absolutely right thing." But her opinion isn't shared by most Italians. Some 60 percent favor a populist coalition, and most are critical of the president.
Fearing a financial crash
Political analyst Francesco Galietti, sitting in his elegant Rome office boasting designer furniture, offers a more sober analysis of the situation. He attaches great importance to the role of the financial markets. Galietti used to work as a consultant for Italy's Ministry of Economy and Finance. He says "the markets are waiting for a signal indicating a robust fiscal policy and against leaving the eurozone. Snap elections and the uncertainty they entail would be a very bad signal." He thinks an anti-establishment coalition could calm markets provided it does not decide to drastically increase spending. Investors, argues Galietti, expect the new government to have a proactive strategy for reducing Italy's national debt.
Unlike some in the European Union, Galietti is not worried Italy will bring the eurozone to its knees. "I don't think [the populists] will create a disaster. Some have this fear that Salvini wants to provoke a crash. But I don't believe that." However, he says, the confrontation is getting out of control. He says it's now "the Palazzo versus the people," by which he means President Mattarella, whose official residence is the Palazzo del Quirinale, and who, at least on paper, should be impartial and not embroiled in a fight with Italy's populists.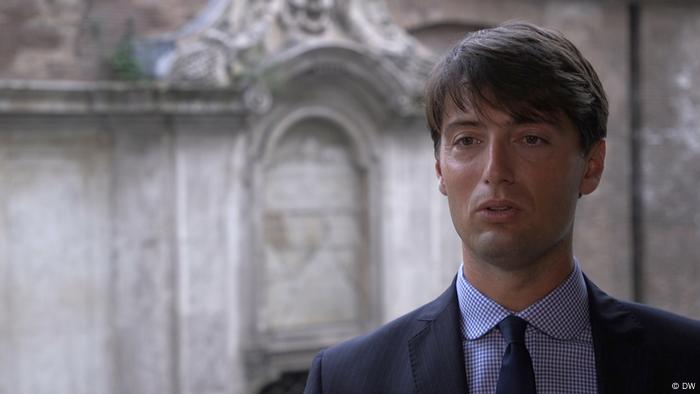 Galietti is not worried Italy will bring about the end of the eurozone
Galietti says that if you want to provoke a political confrontation, then you need an enemy, but because Berlusconi has been sidelined politically and the Social Democrats have brought about their own demise, the populists are now turning to Mattarella. "He took the situation nuclear because he has brought a potential referendum on the euro into the realm of possibility," says Galietti. He drew comparisons between the current political climate in Italy and Brexit. But in the case of Italy, the outcome could be even worse, "because Italy is in the eurozone," he says.
Anger directed towards Berlin has a long tradition in Italian politics because people in the country have long held the belief that the EU belongs to Germany, Galietti explained, noting that Di Maio and Salvini were not stoking a new sentiment.
When confronted with the prospect of Italy's populist coalition coming into power, Galietti says that frustration among people in the country is greater than the fear of what might happen. But that could quickly change, he cautioned, particularly among supporters of The League in northern Italy, where many small businesses have close links with Germany. "They have the potential to lose, if things collapse. But when you intimidate people, they react easily," Galietti says, adding that is exactly what has happened in Italy.