South Africa declared a scenic coastal town a disaster area on Thursday as firefighters battled to put out a runaway blaze that destroyed homes and forced up to 10,000 people to evacuate.
Hundreds of homes in Knysna, a town of 77,000 people located on the tourist Garden Route 500 kilometers (310 miles) east of Cape Town, have been destroyed by multiple fires triggered by the worst storm to hit the area in 30 years.
"The fire in Knysna is the largest and most destructive fire in a built-up area in the Western Cape in recent memory, with thousands displaced. It comes on the back of the worst storm seen in the Western Cape in at least thirty years," said Western Cape government spokesman James-Brent Styan in a statement.
A 3-year-old toddler died on his birthday alongside his parents as they tried to escape fire and smoke, local media reported on Thursday. His death brought the death toll from the storm to nine.
Other deaths occurred in Cape Town and parts of Western Cape Province.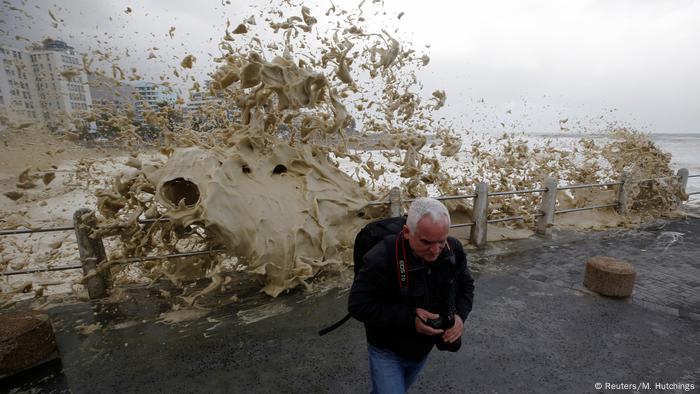 On Wednesday, ocean swells reached up to 13 meters high (42 feet), flooded coastal areas and damaged cars and property.
Fire follows storm
A powerful storm packing gale-force winds, lightning and torrential rains hit Western Cape on Tuesday, felling trees, tearing the roofs off shanty houses and causing traffic chaos as roads shut. The national weather service has warned of flash floods in Cape Town and other low lying areas.
Nearly 50,000 people have been left without electricity.
In Knysna, many of the areas hit were in upmarket neighborhoods.
The military said it would send troops to patrol Knysna to prevent any looting.
Authorities also deployed helicopters to help put out the fires, but eNCA news reported that they have had trouble operating because of heavy winds and black plumes of smoke.
Fires also raised homes in Plettenberg Bay, east of Knysna.
Western Cape Province has been suffering from a severe drought, which is not expected to be eased by the storm.
cw/jm (AP, dpa, AFP)