Timo Soini (pictured above) wrote his thesis at Helsinki University on "Populism in Politics." He then turned his political studies into a career and became a relatively successful right-wing populist. In 1995, he co-founded the grass roots "Basisfinnen" (The Finns) party, becoming its leader two years later.
He has represented the euroskeptic party both as a member of the Finnish parliament and the European Parliament in Strasbourg. During elections in April, Soini's party got their best-ever results. The Finns now make up the second-biggest parliamentary faction in Helsinki, and together with the liberals and conservatives, have formed the country's new government. The 53-year-old Soini has now crowned his career by being named foreign minister, a post he'd been eyeing for years.
"We are no danger"
The Finns are not seen as an extreme party in Finland, rather populist in the sense of being close to the people. That's a point Soini stressed during an interview with DW. "We are not a danger to anybody, we're here for the Finnish people," he said. "In the European Parliament, we are in the same faction with the British conservatives, the Polish Law and Justice Party, and the Alternative for Germany party (AFD). It's one group. We are not extreme, we are conservative."
Soini, who personally enjoys high popularity in polls, has already removed several prominent right-wing extremist and anti-foreigner members from his party. There are still some racist and radical elements, but they do not make up the face of The Finns, says Erkka Railo, a political scientist at the University of Turku. "It is a fact that the party program still contains so many limitations on immigration that, in effect, it is an anti-immigration party," Railo told DW.
"Greece doesn't belong in the eurozone"
When the new foreign minister takes his place at the next meeting of his counterparts in Brussels, he will meet the radical left-wing Greek foreign minister. "That will be an interesting discussion," said Railo. "It won't make the situation any easier. I know that Finland's position in the EU is already difficult, because in 2011, the Social Democrats demanded collateral from Greece. With The Finns in the government, things are even more complicated."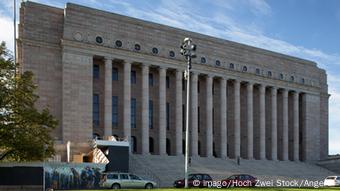 Finland's parliament building in Helsinki
Soini has long been an advocate of Greece exiting the eurozone, saying the country is simply not competitive. Speaking with DW, he said that it's not just his party that holds that view in Finland.
"It's a very popular opinion, one that is shared by many people in Finland, no matter which party they identify with. We've been the toughest critics, but there's a sort of overarching agreement. I'm very sure that the next Finnish government will be very reluctant to give Greece any Finnish taxpayers' money – not to save the Greeks by the way, but rather to save the French and German banks."
At his first press conference in Helsinki, the new foreign minister said that Finland's membership in the European Union is not up for debate, but that the EU needs to reform itself. "We will remain a critical friend of Europe," Soini said.
No radical change of course
Railo doesn't expect any radical changes in Finnish foreign policy. "I would be surprised if The Finns actually have a big influence on EU politics," she said. "You have to remember that Finnish foreign policy is anchored in all possible parties in a range of ways. The victory of one party doesn't necessarily mean a decisive influence on policy as a whole."
At the same time, Timo Soini has moved away from rejecting the idea that neutral Finland join NATO. He now says the government will consider what advantages membership in the military alliance would offer in the face of a threat from Russia. The former government had already proposed closer ties with NATO – something that the majority of people in Finland are against. Soini will also have an interest in improving economic relations with Russia, now that exports to the neighboring country have sharply decreased.
Soini is a devout Catholic, making him a member of a small minority in Finland. As a Christian, he says, he can't possibly be against foreigners. He said he will continue to support immigration as long as immigrants are needed on the Finnish labor market. He is, however, a firm opponent of both gay marriage, and abortion.