"Can you lend me your ear, Ellen?" That is the way most conversations between Ellen Ladnorg and Susanna Henkel begin. Although both women live in Berlin, the majority of those conversations take place on the telephone. Susanna Henkel has lung disease and she has also been caring for her husband, Klaus, since he had a stroke some nine years ago.
Henkel, who leaves her apartment only to buy groceries, tells DW — also by telephone — that Ladnorg is "a ray of light in the darkness." Now that the coronavirus is changing life so dramatically, they talk with one another almost every evening and have a standing date around 6 p.m. Ladnorg says she wants to make sure her friend is doing all right.
Read more: Stories from quarantine: 'I'm actually doing incredibly well,' says 81-year-old
The two women got into contact five years ago with the help of the Malteser Hilfedienst, a Catholic aid organization. Ellen Ladnorg had already been working with the group for years. She and fellow volunteers had established a project called "Time to Talk" (Redezeit), a program designed to let volunteers make regular calls with people to offer them comfort and to ease their loneliness where needed.
One day, 69-year-old Susanna Henkel read about the program in the newspaper and called to sign up. Since then, she and Ladnorg have been regularly phoning two or three times a week. "Sometimes, depending on how difficult things are, we talk for up to an hour. But on other days we just chat for a couple of minutes — we just say hi and let one another know how we are doing," as Ladnorg tells DW.
A job with responsibilities
Ladnorg, who is 73, has a steady voice and an open gaze. She is fully aware of the responsibility that she has taken on. "We often have volunteers who start off strong, but then we never hear from them again. That is really awful for the elderly people we help. They think they must have done something wrong, and they begin to feel insecure," says Ellen Ladnorg. She says volunteers "have to approach this from the heart. They have to listen to what people are telling them."
Susanna Henkel's voice becomes shaky at times as she tells DW about the difficulties she has in life. She says her weekly conversations with Ladnorg give her a sense of continuity, as well as providing a window to the outside world.
Read more: Coronavirus in Germany: Music at a distance brings Berlin street together
At times her husband, Klaus, can be heard in the background angrily interjecting into our conversation. "A stroke changes a person," she says, almost apologetically. She says he is normally in an adult day-care facility three times a week, but the coronavirus pandemic has made that impossible right now. She says her husband has not been out of the house for more than a month, and the situation is taking its toll on her. Then she perks up and says: "But it makes me happy when Ellen calls. I really miss it if we can't talk."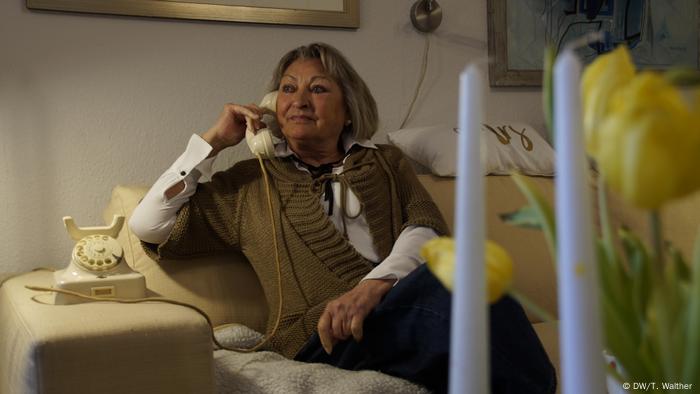 Ellen Ladnorg works as a volunteer for the German branch of Malteser International
A smile one feels through the phone
If Ladnorg knows she won't be able to call because she is traveling, for instance, she always lets Henkel know ahead of time. To make up for her absence, she sends postcards. And if she goes out to dinner with friends, Henkel asks where she went and how the food was the next time they talk.
"My calls and postcards connect her to the outside world in some ways," says Ladnorg, adding, "Susanna doesn't have internet." Throughout it all, Ladnorg says she never feels her connection to Henkel is a burden: "I can hear her smile on the other end of the line, and that is all the pay I need."
The two had known each another for three years before they finally met in person. The meeting wasn't planned, but necessitated by a medical emergency. Henkel had fallen and Ladnorg brought make-up and a change of clothes to the hospital for her. When Henkel was released, she and her husband went out for an ice cream with Ladnorg.
Henkel says the coronavirus pandemic gets her down sometimes. But then, Ladnorg reminds her of that trip to the ice cream parlor, telling her: "We'll do it again when this is all over. You and Klaus and I will go out, and we'll get the biggest ice cream we can find."
DW sends out a daily selection of the day's news and features. Sign up here.