He has won five of this season's nine World Cup races and is the reigning world champion. Once again, Felix Loch has confirmed that he is luge's most consistent performer. Loch took the World Cup title last year, and triumphed 12 months before that. In 2010 in Vancouver the 25-year-old German won Olympic gold.
But things aren't always so simple - as he found out at the start of this season in Lillehammer when he finished third. A small mistake on his second run cost him victory. The experience confirmed what Loch has always said: "My competitors wait for me to make the slightest mistake."
The 'cool dog'
A week later in Innsbruck he was back to the "old" Felix. A concentrated performance in both races gave him victory. That says a lot about Germany's top luger: He doesn't tend to falter, instead he stays relaxed, and takes an analytical approach to his mistakes. As Germany's most successful luger of all time, Georg Hackl, puts it, "It's amazing how cool the dog is."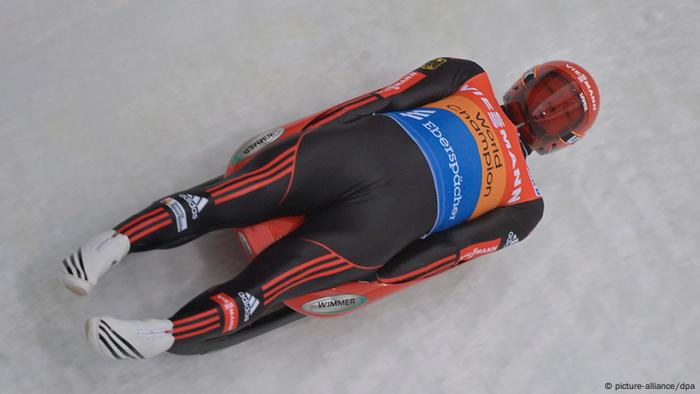 A "cool dog" - Felix Loch can always focus on the race
Hackl has known Loch for 20 years. The young Felix watched him improve his sled after a victorious 1992 Olympic performance and win gold again in 1994. "Felix loved to help and always wanted to touch the runners that I had sanded," Hackl said.
Two big influences
Loch, who was born in the East German state of Thuringia in 1989, the year the Berlin Wall came down, trained with the Bavarian Hackl. Hackl's workshop was in the basement of the headquarters of the building that houses the German Luge Association. Norbert Loch, Felix's father and then the Bavarian state coach, had his office there, after moving with his wife and the young Felix from Sonneberg to Berchtesgaden. As his father worked upstairs, Felix picked up the bug for the sport at which he would become so successful.
Thus two fathers stood over the "cradle" of the luger. He got his talent from Norbert Loch - Felix's father was also a first-class luger and finished 13th for East Germany at the 1984 Olympics in Sarajevo. Georg Hackl took that raw talent and showed Felix the tricks of the trade. Hackl, who now serves as a coach, consultant and confidant, says today that Loch always has his sled well prepared.
His stroller was a sled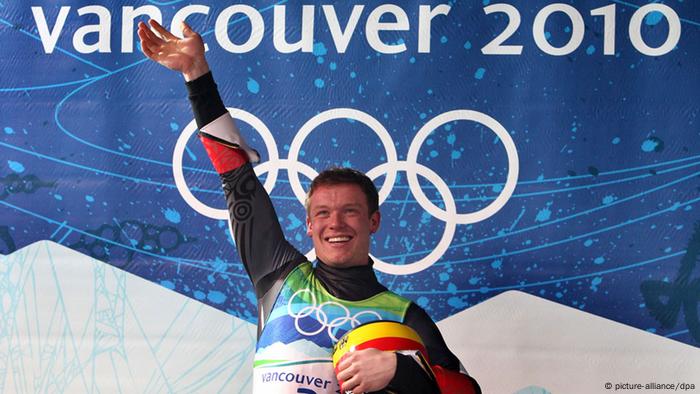 So far, Loch's greatest achievement, apart from his eight World Cup titles, is the 2010 Olympic gold
At five years old Loch sat in a luge sled for the first time. "I was allowed to ride down from the youth starting point," said Loch. "The first run was so great that to ski or play soccer didn't appeal to me anymore."
Step by step he went to the top, in both meanings: on the track - up to the men's starting line - and in terms of performance. Loch won every youth class championship title. In 2006 he became junior world champion. For the experts it was clear - this was a budding champion.
With one fell swoop in 2008 he made a name for himself in winter sports. At the World Cup in Oberhof he won his first title with the "big boys." At 18 and a half years old he was the youngest world champion in the history of the sport. The following year he repeated his triumph on the difficult track at Lake Placid, with new national team coach Norbert Loch by his side for the first time.
At home luge wasn't discussed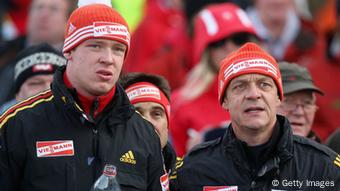 Athlete and coach, son Felix and father Norbert
For a not entirely simple situation "the Lochs" found a simple solution.
"On the track he is my boss and gives the commands," said Felix. "At home we are father and son. We argue with each other, about football and other things." Their working relationship, explained Norbert, changed as the years went on. "I'm now learning from him, because he looks at things from an athlete's perspective. I can use this insight for my job."
The fact that the coach Loch can rely on the luger Loch 100 percent is illustrative of his success over the past four years. The beginning of this cycle was marked by his Olympic gold medal in Vancouver.
That victory came on Sunday February 14, 2010. Sochi's deciding Olympic luge race also takes place on a Sunday (February 9), and if Felix and Norbert Loch have their way, it won't be the only similarity to four years ago.