Today, editors-in-chief from the glossy magazines and young fashion bloggers share the first rows at fashion shows. The bloggers have become major players in the so-called "rag trade." Clicks, likes and followers are the new yardstick of popularity, influence and effective advertising and can mean success or failure in the billion-dollar fashion business. How are the traditional media coming to terms with the changes? What effect do assembly line values have on the exclusivity of fashion? Is it still a powerful testimony of zeitgeist or just pure consumption?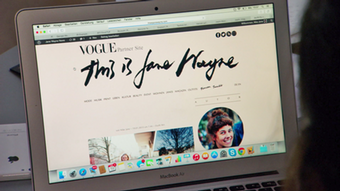 "Jane Wayne" from Berlin is one of Germany's most successful fashion blogs.
The Stars of the Scene
The documentary "We are Fashion!" takes a look into the glittering world of fashion, where fast-moving trends define the market. Among others, we talk to fashion blogger Scott Schuman; Olivier Zahm, founder of the magazine "Purple Fashion;" manager Justin O'Shea; editor Veronika Heilbrunner; German "Vogue" editor-in-chief Christiane Arp; and Nike van Dinther and Sarah Gottschalk, two young Berliners who run one of the most successful fashion blogs in Germany.
Broadcasting Hours:

DW
SAT 29.10.2016 – 19:15 UTC
Lagos UTC +1 | Cape Town UTC +2 | Nairobi UTC +3
Delhi UTC +5,5 | Bangkok UTC +7 | Hong Kong UTC +8
London UTC +1 | Berlin UTC +2 | Moscow UTC +3
San Francisco UTC -7 | Edmonton UTC -6 | New York UTC -4
SUN 30.10.2016 – 01:15 UTC
SUN 30.10.2016 – 07:15 UTC
SUN 30.10.2016 – 15:15 UTC
MON 31.09.2016 – 05:15 UTC
Lagos UTC +1 | Cape Town UTC +2 | Nairobi UTC +3
Delhi UTC +5,5 | Bangkok UTC +7 | Hong Kong UTC +8
London UTC +0 | Berlin UTC +1 | Moscow UTC +3
San Francisco UTC -7 | Edmonton UTC -6 | New York UTC -4
MON 07.11.2016 – 09:15 UTC
SUN 13.11.2016 – 03:15 UTC
Lagos UTC +1 | Cape Town UTC +2 | Nairobi UTC +3
Delhi UTC +5,5 | Bangkok UTC +7 | Hong Kong UTC +8
London UTC +0 | Berlin UTC +1 | Moscow UTC +3
San Francisco UTC -8 | Edmonton UTC -7 | New York UTC -5
DW (Amerika)
SUN 30.10.2016 – 09:15 UTC

Vancouver UTC -7 | New York UTC -4 | Sao Paulo UTC -2