DW: What distinguishes the "Fajr International Film Festival" from other major festivals?
Reza Mirkarimi: We are the oldest film festival in Asia and as such, we provide a platform for unknown filmmakers and actors from the region to showcase their work. For example, we show works from Afghanistan, Anatolia and the Caucasus. Our topics include problems within families and cultures and the struggle for independence in many countries. Our goal is to be open to all people and also to expand peoples' knowledge a little.
Read more: Iranian artist Shirin Neshat celebrates women in Islamic societies
Festival director Reza Mirkarimi
The festival is taking place for the 36th time. How has it changed over the years?
In the three years since I have been running the festival, we have established a good relationship with the government. The government organizes the festival, but it trusts us and therefore gives us the freedom to do something good for many people through our work — not only for the filmmakers and actors, but also for the audience.
Read more: Arts.21 - Filmakers fighting for their cause
The festival is also a networking forum for filmmakers from Iran and other countries. How much collaboration is already in place?
We are trying to establish contacts and partnerships between the Iranian film scene and abroad. At the moment there are already many co-productions with other countries, especially those in the region — for example Afghanistan, India, Azerbaijan, Iraq, Armenia and Turkey.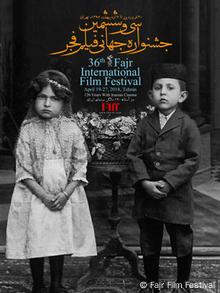 The film festival's poster
But that is not enough, we have to do more. The market in the region is huge and Iranian cinema has a lot of potential. But we are steadily moving forward and are on the right track. I hope that in a decade we will be a hub in our region that can introduce regional talent and films to other countries.
This year US director Oliver Stone is a guest. What role can art play in bringing countries together?
Oliver Stone is here because he plays an important role in cinema around world — that's why he has given several workshops and met many people here. We hope that we will have him here again in future — all this has nothing to do with politics. We want to make new connections through this festival, which means we are looking for what could link us with others.
Iranian filmmaker, Reza Mirkarimi, 52, became famous at the end of the 1980s first for his short films and later through two television series for young people. His feature films have received several awards at international festivals. Mirkarimi has directed the Fajr International Film Festival in Tehran since 2015.