It was overcast, cold and very windy in Mönchengladbach the morning after the spectacular win against Bayern. Crows flocked around the gloomy Borussia Park, while the aftermath of the party that was held here on Saturday was still evident.
Undeterred by all this, Gladbach's team slowly arrived for a morning session of training. A beaming Andre Schubert was one of the first. The club's beaming light was applauded as he walked past the smiling fans, who arrived to thank their heroes.
One of the many others to arrive was Fabian Johnson. The US star has been inundated by interview requests of late, and for once it was not just because he's an American playing in the Bundesliga. His form has been better than ever before - four outstanding goals in the last 10 days prove he's performing at the highest level. But Johnson arrived relaxed, wearing a tracksuit and a jumper. A short session on the bike and a chat with the coach later, he was standing in front of me. He laughed subduedly about how busy his schedule is. A trip to Manchester in the Champions League was on his mind.
"I just wanted to score," he said, smiling when I ask him about how he felt when he was one-on-one with Manuel Neuer. I asked him what Schubert said at the interval, when the scores were level at 0-0, with Gladbach going well in the game. "Do you feel comfortable," came the response. Schubert recognized Bayern were there for the taking.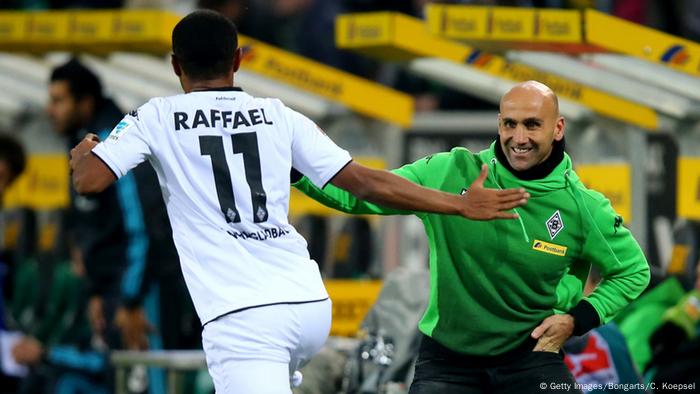 Andre Schubert has brought the Foals back to life
I asked what was different under Schubert, and what's different in him. Fun is the word that sticks. Perhaps things had got too much like work under Lucien Favre. For Johnson, a great deal more than a new coach has changed, as he pointed out. "Two years ago I was playing right back for Hoffenheim, now I'm playing left wing for Gladbach." The difference is astounding.
Gladbach have now gone 10 games without defeat in the league since losing their opening five. Schubert really has had a magical effect, but Johnson can't pinpoint why. "The change is like a new wind," he said of Schubert's effect. How apt that is. Soon after, Johnson did like the wind and took his leave, but not before I realized something. Beating Bayern meant a lot, but as Johnson himself said, Gladbach didn't get anything more than three points for it and still have a lot of work to do.