Asked what comes to mind when they think about Germany, many foreigners conjure up stereotypical images of Oktoberfest, the Holocaust and the Berlin Wall.
But these images of Teutonic culture and society do little to reflect the diversity of the contemporary, multiethnic Federal Republic of Germany where one fifth of the population has an ethnic minority background.
A new exhibition that opened Saturday (3.11.2012) at Cologne's Alte Feuerwache hopes to go some to way to change that.
Jonas Behre, director at the Initiative for Black People in Germany (ISD), helped organize the exhibit titled "Homestory Deutschland: Black Biographies from History and the Present" and which provides a collective self-portrait, giving voice to the complex and varied histories of Africans, African-Americans and Afro-Germans from the past three centuries of German history.
"Even though black people have lived in Germany for hundreds of years, it is not viewed as a reality of everyday life," said Behre, who was born in Eritrea but has lived for virtually all of his life in Germany. "And that can be seen in the discrimination and exclusion in daily life, and that's what we hope to tackle with this exhibition."
Wall of Fame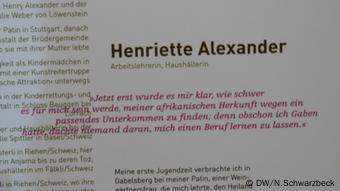 'Hall of Fame': Henriette Alexander was born in Stuttgart in 1817
The centerpiece of the exhibition is the "Wall of Fame" detailing the biographies of 27 black men and women from the past three centuries of German history.
Despite its name, the Wall of Fame depicts not only the biographies of prominent black figures, but also unknown "ordinary" people, in order to escape the preconception of them as "foreigners" and to highlight their presence in Germany as a given.
"For me, the intersection between a person who's not really well known and a person who is really very well known is always interesting," Behre said. "One of my favorite examples from the exhibition is Henriette Alexander who stood up for her rights in the 19th century."
Alexander was born in Stuttgart in 1817 and put into a poorhouse at the age of 8. After finding work as nanny with a family in Stuttgart, she was stopped on the street while out walking with the children by a woman asking for her address. The next day, the woman appeared at the family home offering to take Alexander under her wing.
But the woman belonged to a community of circus riders and for the next two years, Alexander was forced to dress in an African-inspired tribal theater costume and appear as an "African attraction" in the circus where she was also subject to abuse before planning her escape.
A right to live in Germany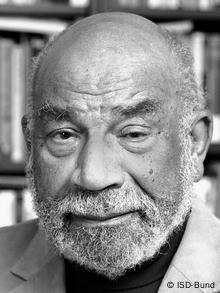 Theodor Wonja Michael was born in Hamburg in 1925 and has a 50 year acting career behind him
Another of the biographies illuminated in the exhibition is that of Afro-German actor, journalist and activist Theodor Wonja Michael. Born in Hamburg in 1925, Michael is Germany's oldest living Afro-German. His father moved from Cameroon - then a German colony - to Germany in 1904.
Denied access to higher education on the basis of skin color, he would have liked to have become an archeologist or an ethnologist. But as a young man, one of the few possibilities he had to earn a living wage was as an actor in colonial films or "Völkerschauen" - the ethnological expositions or "human zoos" popular in Germany in the 19th and early 20th centuries.
After the end of the Second World War, Michael found it hard to get work he managed to get work as an actor of the theater stage.
Michael remembers how his father always felt it was his natural right to live in Germany and how this attitude remains integral to own perspective on life as an Afro-German today.
"Afro-German means that one has two backgrounds, namely an African one and a German one," Michael said. "I think it's an advantage having an insight into two cultures. I see it as a very positive thing."
More than an exhibit
The project has been touring in Africa since 2006, in countries including Senegal, Malawi, South Africa and Uganda, to name just a few. Now the exhibition, organized by the ISD with support from the Federal Institute for Civic Education (BPB) and the Foundation Remembrance, Responsibility and Future (EVZ), is being shown in Germany for the first time.
Homestory Deutschland also includes a series of events including live music, spoken word performances, theater pieces, film screenings, discussions and readings in order to present a differentiated perspective on the life and histories of black people in Germany.
"The premise is to present a broad spectrum of black German histories, not the handful of prominent people on television, but ordinary people, in order to escape the cliché of black people being just sportspeople, singers and drug dealers," multimedia theater performer ManuEla Ritz told DW.
It was a sentiment echoed by Behre, who said the greatest challenge facing black people in Germany today was not allowing themselves to be reduced to the opinions of the white majority.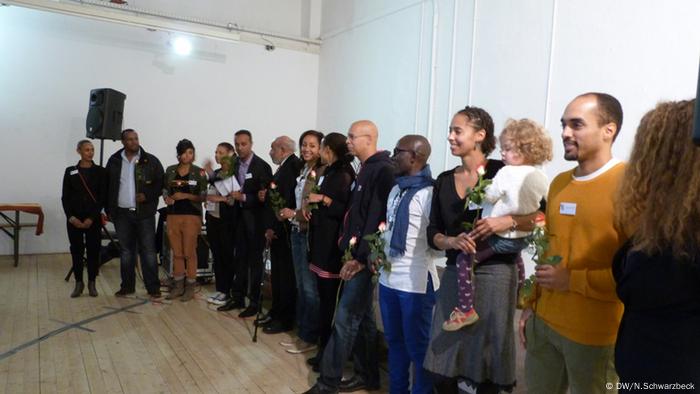 The organizers of the Homestory Deutschland project at the opening of the exhibition
Ongoing debate
People from minority ethnic backgrounds have long struggled to be accepted as a part of German society, indeed as German citizens. Most recently, former politician Thilo Sarrazin caused uproar in 2010 with his bestselling book "Germany Is Doing Away with Itself" in which he argued that immigrants who refused to integrate into German society posed a threat to Germany's "indigenous" culture.
During her speech at the opening night of the exhibition, one of Cologne's five deputy mayors, Elfi Scho-Antwerpes used the opportunity to talk about the importance of immigrants integrating into German society. Many members of the audience, including Behre, were visibly aggrieved by her comments.
Homestory Deutschland is not about immigrants or the "others," rather, black Germans who make up German society as a whole, who were born and raised here, or who have spent the majority of their lives in Germany, and who see themselves very much as being German.
"I'm not interested in the political debate about integration. It's not about integration, it never is. It's about equal rights for all," Behre said.
Homestory Deutschland runs through November 25, 2012 at the Alte Feuerwache in Cologne. Thereafter, the exhibition will continue to Nuremberg (January-February 2013) and to Hamburg (March 2013).