Europol, the EU's law enforcement coordination agency, on Thursday launched a new initiative to catch the bloc's most wanted criminals by creating an interactive game based on the football World Cup.
"Twenty-five dangerous criminals on the run from police have entered Europe's Most Wanted Cup in a bid to become as well-known as some of the real players," said Europol. "The more people see their faces, the higher the chances that they will be arrested."
Running through to Saturday, each day Europol and national law enforcement agencies are posting codes on social media platforms, which can then be used to unlock players on the "dedicated crime squad," a collection of criminals who are wanted by authorities across Europe.
'The public knows'
Europol spokesman Jan Op Gen Oorth told DW that the concept was born out of the idea that few members of the public see who Europe's most wanted criminals are.
"It's not good enough if only police officers and law enforcement agents view this list," Europol spokesman Jan Op Gen Oorth told DW. "We find it paramount that the public knows about these people."
While police have been using crowdsourcing for years in the form of tips hotlines, internet-based initiatives offer the public greater accessibility, especially on social media. But the real question is: Does it work?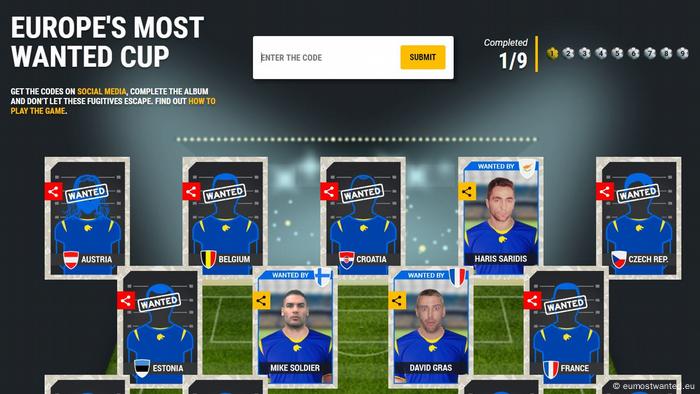 Successful strategy
According to Europol, previous interactive campaigns have led to at least six arrests, including three from a 2016 Christmas campaign and three others from a 2017 summer postcards campaign.
"Experience has taught us that a more original tone is needed to attract visitors to [Europol's most wanted] website," said Oorth. "Maintaining a high number of visitors is important to increase the chance of putting these criminals behind bars."
More than half of the criminals on the list are wanted for murder, while the rest are sought for major drug trafficking, armed robbery or fraud.
Read more: Amid evolving threats, Europol strengthens fight against terrorism
'Future of law enforcement'
Europol has in the past employed other unorthodox methods using what Oorth described as "crowd intelligence." Last year, the agency launched an initiative to stop child abuse by tracing the location of an object with the help of the public.
"The most innocent clues can sometimes help crack a case. The objects are all taken from the background of an image with sexually explicit material involving minors," Europol said. "For all images, every other investigative avenue has already been examined."
Read more: 'Internet a more significant facilitator of crime and terrorism than Schengen,' says Europol chief
In June, the agency announced that through its "trace an object" campaign, it had received more than 21,000 leads.
"It is the first time that we have used the wisdom of the general public to try to safeguard children from abuse and exploitation," said Europol executive director Catherine De Bolle.
"With 21,000 tips and several ongoing investigations, this excellent result encourages us to incessantly continue our efforts to keep our children safe."
With such results, crowdsourcing intelligence on criminals is "the future of law enforcement," Oorth told DW.
Each evening at 1830 UTC, DW's editors send out a selection of the day's hard news and quality feature journalism. You can sign up to receive it directly here.