European embassies in Norwegian capital Oslo have received calls from their Chinese counterpart to shun the Nobel awards ceremony in December. Chinese dissident Liu Xiaobo, who is serving an 11-year jail term on subversion charges for advocating democracy and multi-party rule, will be honored at the event.
China's embassy in Oslo sent out letters explicitly warning EU envoys against showing up at the ceremony on December 10, telling them to refrain from "activities aimed against China."
"We attend as we do every year"
"We had an exchange between European embassies in Oslo regarding the note," Jan Friedrich, deputy chief of Germany's embassy in Oslo said. "Our position is clear, we will attend as we do every year."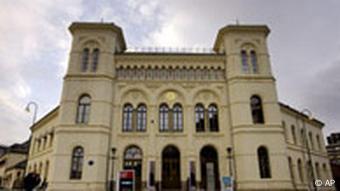 China is the only country that has refused its Nobel ceremony invitation
Friedrich said he is going to attend the ceremony in place of the German ambassador, who will be on a trip at the time.
Olof Huldtgren, deputy head at the Swedish embassy in Oslo said that the letter "does not explicitly say don't participate in the Nobel ceremony, but reading between the lines, the message is clear."
"They will have to bear the consequences"
After the warnings were sent, Chinese deputy foreign minister Cui Tiankai made a statement to sure the message had been understood.
He told reporters that the choice for European countries and others is clear and simple. "Do they want to be part of the political games, and do they want to be part of the effort to challenge the Chinese judicial system, or do they want to develop friendly relations with the Chinese government and people," he said in Beijing.
"If they make the wrong choice, they will have to bear the consequences," Cui added.
A senior European diplomat in Oslo who asked not to named said that most EU states will implement a "business as usual" strategy, meaning that those ambassadors who usually attend the Nobel awards will also do so this year.
Britain, Sweden, Finland, Denmark, Netherlands and Iceland have also said they would attend the award ceremony. So far, only China has turned down the invitation.
Author: Sarah Steffen (dpa, Reuters, AFP)
Editor: Ben Knight