The European Union's executive arm said it would help fund part of a network of digitation sites and study copyright issues that might arise.
Information Society and Media Commissioner Viviane Reding said the library would help people to "tap into Europe's collective memory with a click of your mouse."
The library will be based on the infrastructure of an existing network that allows access to digital resources already held in national libraries.
The commission, which first announced plans for the library last September, said it should have the full collaboration of national libraries by the end of the year.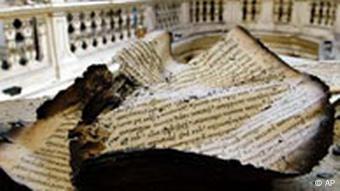 The project would protect European literature against loss by fire like the one at Weimar's famous Anna Amalia library
Two million books, films, photographs, manuscripts and other works should be online through the library by 2008 and the figure would rise to six million by 2010 as more and more libraries, archives and museums plug in.
US Internet search giant Google triggered an international race to build an online library when it announced plans in December 2004 to digitize books and documents from a handful of big libraries.
US Internet and software giants Yahoo, Microsoft and Amazon have since announced separate plans while France, angry that private companies took the lead, has pushed for the creation of a public digital library.