European Union foreign ministers meeting in the Polish resort of Sopot have agreed to impose a ban on the import of crude oil from Syria.
"In view of the gravity of the situation in Syria, the [European] Council today further tightened the EU's sanctions against that country and imposed a ban on the import of Syrian oil to the EU," said a statement released Friday by the 27-member bloc.
"The prohibition concerns purchase, import and transport of oil and other petroleum products from Syria. No financial or insurance services may be provided for such transactions."
The United Nations estimates that forces loyal to President Bashar al-Assad's regime have killed 2,200 civilians in the last six months in a violent crackdown on anti-regime protesters.
Although the embargo was formally adopted on Friday, it won't fully take effect until November 15. The Italian government had wanted to delay implementation of the sanctions until November 30 due to existing supply contracts between European companies and Syria's two national energy firms, Syria Petroleum and Sytrol. November 15 was agreed as a compromise.
The measure will deprive Assad's regime of a vital source of cash, as the EU buys 95 percent of Syria's crude oil.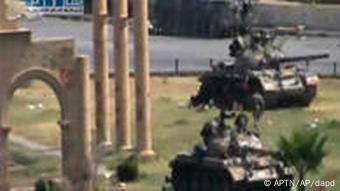 Rights groups say security forces regularly fire on protesters
The EU also expanded its list of individuals and businesses targeted by an assets freeze and travel ban, adding four businessmen close to Assad. Three companies, including a bank, were also added to the blacklist.
This comes in addition to the 50 people already named in the EU's sanctions list, including Assad himself and three Iranian officials accused of supporting his government. Eight other Syrian and Iranian companies or organizations are also blacklisted.
International efforts
The EU meeting comes after the United States and Britain called for a tougher stance against Assad's regime on Thursday, demanding new international sanctions.
In talks on the sidelines of a Paris summit on the future of Libya, US Secretary of State Hillary Clinton repeated calls for Assad to step down.
"President Assad's brutality against unarmed citizens has outraged the region, the world and most importantly the Syrian people themselves," Clinton told reporters in Paris.
"Syria must be allowed to move forward. Those who have joined us in this call must now translate our rhetoric into concrete actions to escalate the pressure on Assad and those around him, including strong new sanctions targeting Syria's energy sector to deny the regime the revenues that fund its campaign of violence," she said.
British Prime Minister David Cameron told a news conference following the Paris conference that he was increasingly alarmed by a reluctance among UN Security Council members to back a more assertive stance.
"I think what's happening in Syria is appalling. I think the world needs to stand up and speak clearly about this," he said.
Cameron added he believed "we need tougher sanctions, more travel bans, more asset freezes [and] a clear message that the regime and what it is doing is unacceptable."
Russia has so far frustrated efforts by Security Council members to impose asset freezes and an arms embargo. Moscow instead presented an alternative draft which included no sanctions.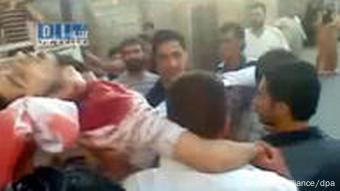 The UN estimates thousands have been killed since mid-March
Continued violence
Meanwhile, fresh anti-regime protests were held in several parts of Syria on Friday under the slogan "death rather than humiliation."
Syrian activist groups reported protests in the northern city of Amuda, Daraa province, in the south and Aleppo in the north. Some protesters carried signs calling on Russia to stop selling arms to Assad's regime.

Human rights groups said at least four more people were killed on Thursday when security forces opened fire on protesters in the central city of Homs. Government troops also fired at demonstrators in Aleppo.
The United States has denounced what it called the Syrian regime's "abhorrent abuse" of prisoners, following an Amnesty International report of 88 deaths in custody between April 1 and August 15, including 10 teenagers.
In at least 52 of the cases, Amnesty said "there is evidence that torture caused or contributed to the deaths," citing signs of violent beatings, burn marks and cuts.
Independent confirmation of these reports is difficult due to Syria's ban on foreign journalists from reporting from inside the country.
Assad's regime has so far defied Western sanctions, blaming "armed terrorist gangs" for the violence.
Author: Joanna Impey, Chuck Penfold (AFP, AP, Reuters)
Editor: Martin Kuebler