British Prime Minister Theresa May on Thursday hinted at her openness to extending a so-called transition period "for a matter of months" after Britain leaves the European Union in March 2019.
"A further idea that has emerged, and it is an idea at this stage, is to create an option to extend the implementation period for a matter of months, and it would only be a matter of months," May told reporters in Brussels, where EU leaders were gathered for a bloc summit meeting.
An extension could buy negotiators time to resolve the impasse over the Ireland-UK border, but the suggestion courted criticism from within May's own party immediately after it was first floated in Westminster on Wednesday.
To enable an extension, Britain would have to request it, and then the other 27 member states would have to agree to it, a senior EU official told the AFP news agency. European Council President Donald Tusk said after the summit that he was sure EU leaders would respond positively to any request from Britain for a longer transition period.
EU politicians have bemoaned a lack of consistency and clarity from the UK side, a criticism that was reiterated at the summit. Lithuanian President Dalia Grybauskaite said: "We took our steps. We need to know what the other side wants — finally."
The transition period for the UK and EU is only expected to come into effect if some form of preliminary deal is struck before the UK's scheduled EU exit in late March. In the event of a "no-deal Brexit," any transition period plans are liable to disintegrate.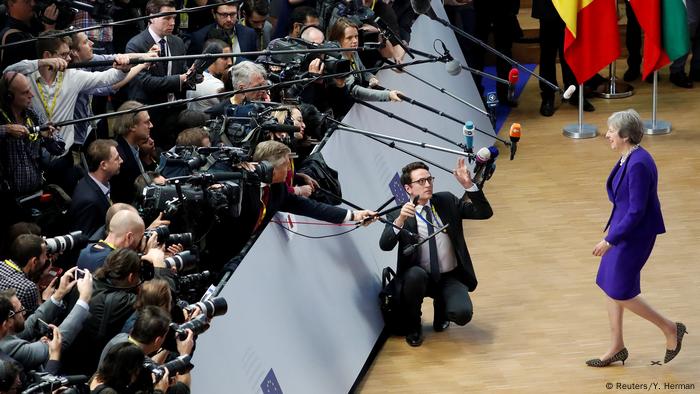 Theresa May spoke to the press
Read more: Theresa May to address EU leaders in Brexit play's next act
More funds for migrants
In a statement issued on Thursday, the EU leaders said they would push ahead with plans to increase cooperation with North African countries and work with them on "investigating, apprehending and prosecuting smugglers and traffickers."
Luxembourg Prime Minister Xavier Bettel said it was important for all EU states to be involved in managing migration from outside the bloc.
"We can't just say that a country with a border on the sea is suddenly the only one responsible" for migrants, he said. "The problem is European and the solution should be a European one as well."
Austrian Chancellor Sebastian Kurz indicated there could be more funds forthcoming: "We're recommending that instead of mandatory quotas that we go the way of solidarity. This means that each country will provide a contribution where it is possible and where it makes sense."
President of the European Parliament Antonio Tajani suggested such a plan could work: "It's possible, no refugees but more money," he told reporters. However, the funds would need to be substantial, "not nothing, not peanuts." He added, "It's better an agreement with a compromise than no agreement."
Read more: Opinion: What happened to Brexit architect David Cameron?
Beers and fries
Following the first night of meetings, Merkel and Macron had surprised tourists and residents alike in Brussels, making a stop on the picturesque Grand-Place square to grab beer and fries.
In a lighthearted moment, they were joined by Belgian Prime Minister Charles Michel, and his Luxembourg neighbor Xavier Bettel, who is said to have picked up the tab because he was celebrating his re-election on Sunday.
"It was very nice," Bettel said. "We are also humans." A Croatian journalist who was present tweeted that a group of visitors got to chat with Merkel.
When they asked her about Brexit, she is said to have responded: "Please, it's a wonderful evening. Let's not spoil it."
jcg/jm (AFP, dpa, Reuters, AP)
Each evening at 1830 UTC, DW's editors send out a selection of the day's hard news and quality feature journalism. You can sign up to receive it directly here.