European Union leaders met in the Latvian capital of Riga Thursday for a summit of the bloc's Eastern Partnership program, 18 months after the last meeting set off a fateful chain of events that led to the current turmoil in Ukraine.
The program seeks to bolster ties between the EU and six former Soviet nations: Armenia, Azerbaijan, Belarus, Georgia, Moldova and Ukraine. Just before the two-day summit, the European Union promised grants amounting to 200 million euros ($223 million) to support small and medium-sized businesses in some of these countries, including Ukraine, but as German Chancellor Angela Merkel (pictured above with Latvian President Andris Berzins) stressed ahead of the meeting, these talks "are not an instrument" of EU enlargement.
"We should therefore not raise any false expectations that we cannot fulfill later," Merkel told German lawmakers in Berlin before boarding her plane to Riga.
Russia takes center stage
Relations with Russia are likely to be a hot topic at the meeting, as the last summit in November 2013 saw former Ukrainian President Viktor Yanukovych withdraw his country's bid to sign an association agreement with the EU, opting instead for closer ties with Russia. The resulting protests in Kyiv ultimately caused Yanukovych's ouster which, along with Russia's annexation of Crimea, brought about the ongoing conflict in the east of Ukraine which has claimed over 6,000 lives.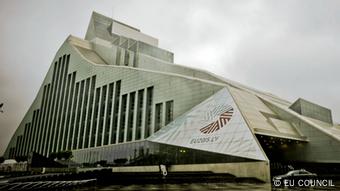 The two-day summit will be closely watched by the Kremlin
Speaking in Riga, Ukraine's President Petro Poroshenko said his country was "ready to demonstrate a real fight against corruption and improve the investment climate."
Earlier, Russian Foreign Minister Sergey Lavrov drew a line in the sand, saying that while it wasn't a "tragedy" that the six nations were seeking closer ties with Europe, the developments of the meeting "mustn't hurt the interests of the Russian Federation."
But Donald Tusk, former prime minister of Poland and current European Council president, dismissed Russia's "bullying tactics" after arriving in Riga.
"The Eastern Partnership is not a beauty contest between Russia and the European Union. But let me be frank: beauty does count," Tusk said at the start of the summit. "If Russia was a bit softer, more charming, more attractive, perhaps it wouldn't have to compensate its shortcomings by destructive, aggressive and bullying tactics against its neighbors."
Tsipras to meet with Hollande and Merkel
Although Russia and its President Vladmir Putin will be important themes of discussion at the summit, the Greek debt crisis will also be on the agenda. Greek Prime Minister Alexis Tsipras is set to meet with Merkel and French President Francois Hollande after dinner Thursday, as an end-of-June deadline looms over a debt deal for Athens.
However, Germany's Finance Minister Wolfgang Schäuble downplayed hopes for reaching an agreement soon, telling news agency Reuters on Thursday that the Greek government's optimism may be unfounded and that one should not rule out a possible default.
es/msh (AP, AFP, dpa, Reuters)