European Union leaders on Thursday agreed on a change in the bloc's rule-book, the Lisbon Treaty, enabling the creation of a permanent rescue fund for eurozone countries in crisis from mid-2013.
"We all share the same objective: to ensure a stable Europe and currency," German Chancellor Angela Merkel said describing the future euro crisis umbrella a "big piece of solidarity between the states that share the euro."
Greek Prime Minister George Papandreou, whose country was the first to need a multi-billion euro bailout from Brussels, said all EU members had to stand together now.
"The challenge today is not what we as member states or nations are doing to shore up our individual economy, the challenge is a collective one now," he said.
As if to underscore the urgency of the matter, the European Central Bank on Thursday announced it has decided to double its capital base by the end of the year to cope with increased credit risk and market volatility.
Divergent opinions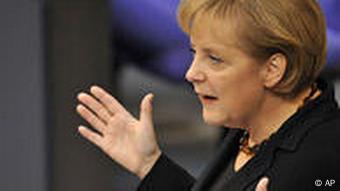 Merkel has argued against euro bonds
But while there may be a collective resolve to protect the eurozone, there is no consensus on the way forward: Differences exist between member states, between parties and between European institutions.
This recently prompted European Commission President Jose Manuel Barroso to call on the European Parliament to demonstrate - above all - unity.
"What we do not need is a beauty pageant of heads of state and government," he said, "A cacophony of different scenarios and proclamations without an outcome."
However, statements made by members of the European Parliament on the issue have pointed to anything but unity.
Belgian politician Guy Verhofstadt, who leads the liberal faction in the European Parliament, attempted to pin down what he believed was the central problem of the monetary union.
"Nowhere in the world is there a currency that is not supported by a government, an economic strategy and a bond market," he said, going on to call for common euro bonds, termed E-Bonds, as well as more mutual coordination on European economic and budgetary policy.
However, the government of Germany, Europe's largest economy, rejects this idea - and isn't alone on this issue.
Two sides to every coin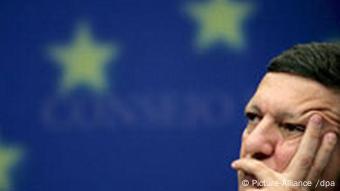 Barroso called for unity on the euro bonds debate
Martin Schulz, the head of the socialists in the European Parliament, bemoans what he calls a crisis of confidence in Europe, in which governments only reveal economic truths piecemeal, whether they concern the Greek debt crisis or a financial rescue fund.
"It's a heavy jolt to the trust in governments when the tell the public that all is well and that everything is under control one minute, and then suddenly, overnight, come out and say we need countless billions in aid," he said.
But while Schulz calls for solidarity with debt-laden countries like Greece and Ireland, conservatives are arguing for the exact opposite.
Belgian politician Derk Jan Eppink harkened back to statements by the Flemish separatist Bart de Wever, who names the Flemish transfer of public funds to the relatively poor Walloons as the chief cause for discontent among the Flemish.
Eppink believes his divided country can act as a warning to Europe: "We have turned a relationship based on partnership [between Walloons and Flemish] into one based on transfer [from one side to the other].
"If Europe continues to proceed in the same way, in a few years the EU will find itself in the same position as Belgium: a community based on transfers, whose political basis is crumbling."
But in the debate about how best to stabilize the eurozone, one thing is clear: No matter what course of action is chosen, it will be expensive, for everyone involved.
Author: Christoph Hasselbach (dfm)
Editor: Chuck Penfold