EU foreign policy chief Federica Mogherini tried in vain to head off press questions about comments by the man she called "almost-president" Donald Trump, noting that such discussions had not been "on the agenda" for Monday's regularly scheduled ministerial meeting. But, as he summed up the talks afterward, German Foreign Minister Frank-Walter Steinmeier confirmed that remarks Trump made over the weekend to British and German newspapers - disparaging the EU, NATO and Angela Merkel herself - had been all anyone talked about.
Mogherini said she hoped that the new administration would build a "partnership" with the EU and that she got signals of a willingness to do so in a conversation with US Vice President-elect Mike Pence. But she noted that the Obama administration will remain in power for a few more days and said she would not elaborate on "intentions expressed before they become policies." She even suggested that the views expressed by the president-elect could change, saying "so many things are not yet clear, even to the incoming administration."
In a wide-ranging interview with two journalists, Trump said NATO was "obsolete because it wasn't taking care of terror," predicted that more countries would quit the European Union and described Merkel's refugee policy as a "catastrophic mistake."
'Astonishment and commotion'
When he arrived for the meeting in the morning, a terse Steinmeier said he and NATO Secretary-General Jens Stoltenberg had shared their concerns with each other over breakfast.
Steinmeier didn't attempt any euphemistic interpretation of President-elect Trump's comments, saying they'd "caused astonishment and commotion" and, he presumed, "not only in Brussels."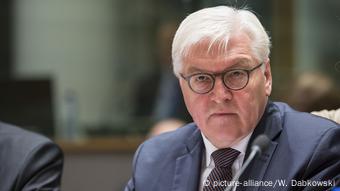 Steinmeier said he and NATO's secretary-general talked Trump over breakfast
The foreign minister was quickly proved right, as former US ambassadors to NATO took Trump to task. Ivo Daalder, now president of the Chicago Council on Global Affairs, tweeted that Trump's apparent worldview is "upside-down," with his criticism of the alliance, the EU and Germany but praise for Russia and its president, Vladimir Putin.
Dismay also came from former US Undersecretary of State Nick Burns, who was the US ambassador to NATO on September 11 - the only time that the alliance has invoked its declaration of mutual defense.



US Army veteran Benjamin Haas was quick to point out with photographic evidence what he described as Trump's erroneous assumption that NATO has not tackled terrorism.

Stoltenberg took a low-key approach to Trump's renewed attack on the alliance, saying through his spokeswoman, Oana Lungescu, that he remains "absolutely confident that the incoming US administration will remain committed to NATO."
Mogherini, likewise, slightly chuckled as she said that, though she respects Trump's opinion that there will be more Brexit-like departures, "I think the European Union will stick together ... I think we'll be okay."