While the overall health effects are inconclusive, human biorhythms may be more severely impacted than previously thought, the European Commission (EC) announced as it opened the issue of clock changes to the continent's citizenry.
The EC is assessing two main policy alternatives: keep the current summertime arrangement or discontinue the changes and ban periodic switches, leaving each state to choose between permanent summer, winter or a different time.
"The Commission is committed to gather European citizens', stakeholders' and Member States' views on possible changes to the current summertime arrangements," the EC declared on its website.
Respondents have until August 16 to reply.
The consultation comes after Finland asked for the March and October switches to be abandoned and Lithuania called for a review.
Earlier this year, the European Parliament adopted a resolution, calling on the EC to carry out a thorough assessment, and if necessary, come up with proposals for revision.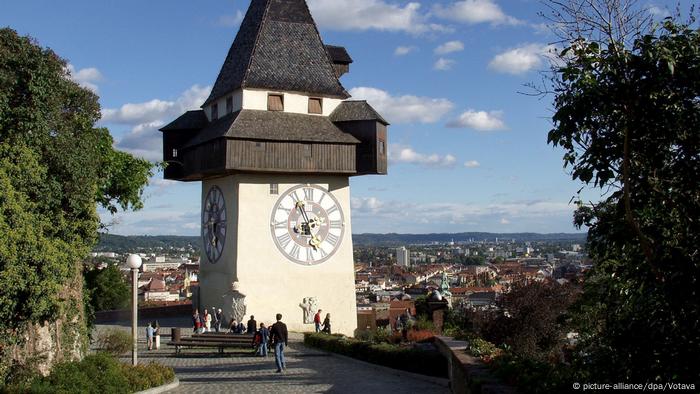 A clock tower in Austria
Three time zones in Europe
Clocks are currently changed twice a year. In March they spring forward by an hour and in October they fall back by the same amount.
Most summertime arrangements date back decades in the EU's member states. The EU set out a directive to govern the matter in the 1980s and obliges member states to switch to summertime on the last Sunday of March. The switch to wintertime is on the last Sunday of October.
EU member states are stretched over three time zones:
Western European Time or Greenwich Mean Time (GMT), Central European Time, one hour ahead and Eastern European Time, two hours ahead of GMT.
The majority of member states fall into Central European Time: Austria, Belgium, Croatia, Czech Republic, Denmark, France, Germany, Hungary, Italy, Luxembourg, Malta, the Netherlands, Poland, Slovak Republic, Slovenia, Spain and Sweden.
Eight states are in Eastern European Time: Bulgaria, Cyprus, Estonia, Finland, Greece, Latvia, Lithuania and Romania.
Ireland, Portugal and the UK apply GMT.
If the directive is repealed, it would not automatically abolish summertime across the EU. It would just end EU-wide harmonization and allow individual states to decide the issue.
jm/kms (AFP, Reuters)
Each evening at 1830 UTC, DW's editors send out a selection of the day's hard news and quality feature journalism. You can sign up to receive it directly here.