Germany could face fines for excessive air pollution, the European Commission cautioned in a "final warning letter" on Wednesday.
The Commission requested Germany take counter-measures for "the repeated exceedance of the limit values for nitrogen dioxide pollution."
The Commission found limits for the deadly pollutant were exceeded in 28 areas of Germany, including Berlin, Munich, Hamburg and Cologne.
It said Germany could reduce its nitrogen dioxide levels by reducing traffic, the use of alternative fuels and the transition to electric vehicles as well as adapted driving behavior.
France, Spain, Italy and Great Britain were also put on notice. If they fail to respond to the Commission's request within two months, the EU authority could bring action before the European Court of Justice where the nations would face fines.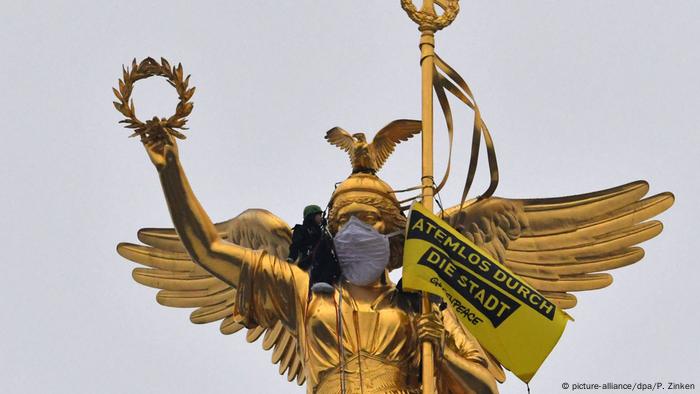 Green Peace activists staged a protest against high concentrations of nitrogen dioxide in Berlin in December
Air pollution kills 400,000 annually
A report by the European Environment Agency (EEA) last year blamed nitrogen dioxide for nearly 70,000 premature deaths in Europe in 2013. In Germany, the EEA attributed 10,610 premature deaths to the pollutant. The report found poor air quality killed more than 400,000 people in EU in 2013.
The Copenhagen-based EEA welcomed the European Commission's letters to the five capitals, saying people were breathing "illegal air."
"What the European Commission is doing today is essential. EU air pollution laws are designed to protect our health. There's no excuse for countries that fail to implement these laws properly," Louise Duprez, EEB Senior Policy Officer on Air Pollution said in a statement. "Children growing up in urban areas deserve better than to be forced to inhale toxic fumes known to cause bronchitis, asthma and other conditions."
Nitrogen oxides are largely produced by road vehicles, particularly diesel-powered ones.
The Commission took legal action on NO2 against 12 EU members, with ongoing cases against Austria, Belgium, the Czech Republic, Denmark, France, Germany, Hungary, Italy, Poland, Portugal, Spain and the United Kingdom.
aw/sms (dpa, AFP)