China has been a major destination for European investment since the Asian nation opened up and initiated economic reforms more than three decades ago. In recent years, Chinese investments in Europe have also been on the rise, reflecting closer business ties between the two sides.
Li Keqiang, the Chinese Prime Minister, now aims to deepen the economic engagement even further by promising billions of dollars to the new European Fund for Strategic Investment (EFSI) - a 315 billion-euro ($354.94 billion) fund focused on reinvigorating growth and job creation in the EU by channeling investments in infrastructure, research and innovation, among other areas.
Li is in Brussels to attend the 17th annual EU-China summit on Monday, June 29. He is scheduled to hold talks with European leaders on a range of bilateral and international issues such as intellectual property rights, technological innovation and digital economy. After visiting Brussels, Li will travel to France to strengthen bilateral relations.
The Chinese premier's Europe trip comes amid an escalation of the EU debt crisis following Greek Prime Minister Alexis Tsipras' announcement to hold a referendum on July 5 to decide whether to accept a bailout deal offered by international creditors.
Strong trade ties
Any economic fallout from the Greek crisis could also affect China, as the EU is the country's largest trading partner. Trade ties between the two have been robust, with bilateral commerce surpassing $600 billion in 2014. At the same time, total Chinese investment in Europe reached about $55 billion last year, according to a report published by law firm Baker & McKenzie in February 2015.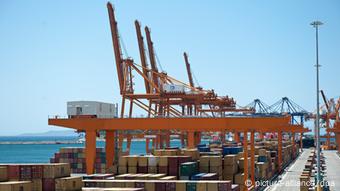 China's Cosco is currently managing two container terminals at Greece's Piraeus Port
Beijing and Brussels are also in the process of negotiating a bilateral investment treaty, which is intended to provide more legal protection and market access for investors on both sides. In an attempt to seek better returns on its huge stock of foreign exchange reserves, China has been increasing its investments abroad in recent years.
Even economically-troubled Greece, for instance, has managed to draw significant investment from Beijing, with Chinese logistics company COSCO currently managing two container terminals at the cash-strapped nation's Piraeus Port.
China's investments are not limited to EU countries, however. Beijing also pumps considerable amount of money into non-EU Central and Eastern European countries (CEECs) such as Albania, Bosnia-Herzegovina, Macedonia, Montenegro and Serbia.
Nicola Casarini, a senior fellow for Asia at the Rome-based Istituto Affari Internazionali, notes there are both financial and political reasons behind China's interest in Europe's new EFSI infrastructure fund. While China views financing European infrastructure projects as a good and fairly safe investment, the move also represents Beijing's efforts to boost political ties with the region, he said.
"Since the announcement of the US pivot to Asia in 2010, China has stepped up relations with Europe across the board in an attempt to lessen what Chinese leaders perceive as an encirclement strategy put forward by the US and its Asian allies," Casarini told DW.
"By announcing a multibillion dollar investment in the new fund, Beijing aims thus to strengthen relations with Europe and drive a wedge between the transatlantic allies," the expert underlined.
Investment drive
A division between Europe and the US over China is already evident as Washington's European allies recently ignored its calls not to join the Beijing-led Asian Infrastructure Investment Bank (AIIB) - designed to fund infrastructure projects in developing countries. EU nations such as Germany, France and the UK recently became founding members of the institution as the bank's founding charter was signed this June 29.
The AIIB is currently in the process of drafting its rules, and it is working closely together with organizations such as the European Investment Bank.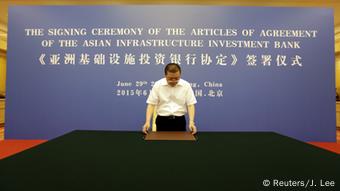 57 nations signed the founding charter of the AIIB on June 29
Experts say European nations - confronted by a host of severe economic problems - have welcomed increased Chinese financing for Eurasian infrastructure. Furthermore, as part of its "One Belt, One Road" initiative, Beijing plans to promote connectivity and trade with countries stretching by land and sea from China through Central and South Asia to as far as Europe.
And ahead of the EU-China Summit, Chinese officials talked of identifying commonalities between the Chinese and European plans. "We are looking for ways to build up synergies between the 'One Belt, One Road' initiative and the Juncker plan to invest in good products," China's ambassador to the EU, Yang Yanyi, told Reuters news agency.
"There is a strong political commitment; there is common ground for cooperation. China is in a position to invest," she added.
Meanwhile, a new study by the Berlin-based Mercator Institute for China Studies (MERICS) revealed that China's foreign assets are expected to triple over the next five years, from a current total of $6.4 trillion (5.7 trillion euros) to $20 trillion by 2020. It noted that Europe is set to see a surge in Chinese investment, which will provide benefits in a time when many EU countries are lacking capital for urgently needed investment due to the debt crisis.
Concerns
"The highest priority is to conclude a robust bilateral investment agreement that addresses the existing asymmetries," the report stated. However, the MERICS analysts also say China's authoritarian political system and lack of openness are reasons for concern.
Nevertheless, by helping kick-start projects that would otherwise have to wait to be implemented, Chinese investments in Europe are contributing to improve the image of China in the old continent, say experts.
"This development is particularly important in some countries such as the UK, Italy, France and Germany where a sizable part of the public opinion has negative views about the Chinese regime," said Casarini. "This has had important implications not only for bilateral relations, but also for EU-China ties," he added.
However, many believe closer commercial ties between the EU and China will undercut Europe's ability to adopt a more critical stance towards Beijing, citing the conflict in Ukraine and the EU's failure to devise a unified response against Moscow due to the fear of damaging the bloc's economic ties with Russia.
Analyst Casarini cautions: "We should also expect some transatlantic frictions on this matter as the US seems to be heading towards some kind of containment of China - at least in the security realm. But such an approach would be difficult for the Europeans to adopt since EU-China ties - thanks also to Chinese investments in Europe - are quite good nowadays."