"Two or three years ago all of this would have seemed impossible," says Zeid Ra'ad al-Hussein, the United Nations human rights commissioner. "We were barely on speaking terms," he admitted, speaking to DW. Today, the UN's human rights office is looking into establishing an office in Addis Ababa.
Zeid is careful in his wording. He does not expect a full political U-turn. After all, the ruling Ethiopian People's Revolutionary Democratic Front (EPRDF) and its allies are still the only parties in Ethiopia's parliament, and the government, as he points out, is known for its heavy-handedness in dealing with political dissent.
The change in Ethiopian politics came at the start of 2018, when the government released thousands of political prisoners and opposition members. Bowing to the economic and political pressure that had resulted from two years of protests, mainly in the country's biggest regions Oromia and Amhara, Ethiopia's prime minister, Hailemariam Desalegn, resigned in February 2018. The ruling party chose an ethnic Oromo, 41-year-old Abiy Ahmed, as his successor, in what was seen as a move to ease ethnic tension in the country.
During his visit, Zeid met the new prime minister, but he also spoke to students, recently released political prisoners and traditional leaders of the Oromia region. "When the new prime minister took office, we were given that access to Oromia," Zeid explains. "In Oromia, I met the traditional leaders and they were very forthright in their views. I was surprised because we had government representatives with us. But it didn't prevent the traditional leaders from speaking out." While they voiced their optimism over Abiy's promise of reforms in his inaugural speech, they also expressed their anxieties as to whether those promises would be kept.
Read more: Ethiopians cross into Kenya after deadly clashes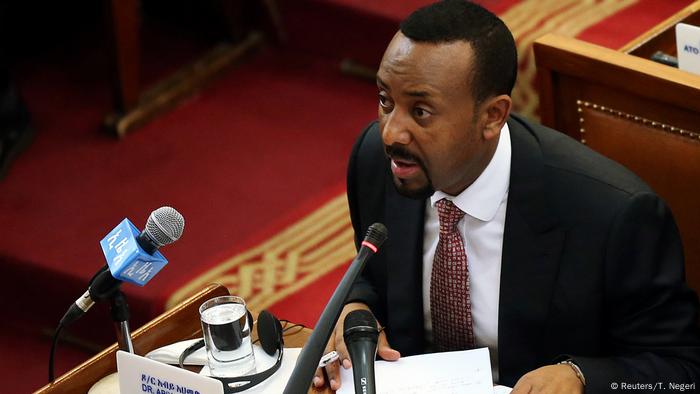 Ethiopia's new prime minister, Abiy Ahmed, took office in mid-April
Uncertainty over the future
One of the main issues that remains unresolved is that Ethiopia's government has not lifted the six-month-long state of emergency that it imposed. The emergency rules, which were reinstated with the resignation of former Prime Minister Hailemariam Desalegn, allow authorities to arbitrarily arrest and detain people who they consider a threat to the country's security.
During the past few years, the government detained protesters, journalists, bloggers, and government critics.
"When meeting some of the most prominent people who have been released, there was one who said to me: We've been victims of broken promises before and so we are anxious," said the UN commissioner. Both the traditional leaders and the former political prisoners said that lifting the state of emergency and investigating the government's handling of the protests and other human rights issues should be political priorities.
The UN's human rights chief admits that some of the stories he heard from the former detainees were horrific.
A step in the right direction
"We will have to watch these developments closely and hope that there isn't any backsliding or regression," Zeid said. Much needed to be done, from a reform of the judiciary to allowing an independent media and civil society to grow.
Zeid, however, also noted that he felt a certain optimism in the country. "The fact that I'm exposed to Ethiopians speaking very clearly about their grievances, about their desires and dreams in front of government officials, this was a good sign for me," Zeid said.