Pope Francis' Alitalia jet arrived for Turkey on Friday, where the pontiff had the delicate mission of strengthening ties with Muslim leaders while condemning violence against Christians and other minorities in the Middle East. Francis will hold talks with President Recep Tayyip Erdogan and Mehmet Gormez, the top cleric in the Muslim-majority secular country, in the capital Ankara on Friday, the first of his three days in the country.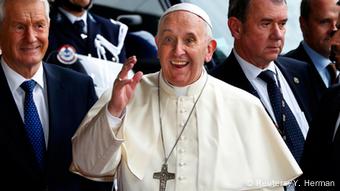 After his Strasbourg EU visit, the pope moves on to EU aspirant Turkey
The visit comes as the self-styled "Islamic State" has laid claim to large parts of Iraq and Syria, just across Turkey's southern border. Turkey is sheltering over 1 million refugees from Syria, thousands of them Christians.
The 77-year-old Argentine, born Jorge Mario Bergoglio, moves on to Istanbul on Saturday and Sunday, with a visit to the Hagia Sophia - the great Byzantine church that was turned into a mosque in 1453 and now serves as a museum - one of the highlights on his itinerary.
Some 2,700 police are set to supervise the visit in Ankara, with more than 7,000 officers ready for Francis' Istanbul appointments.
A palace fit for a … president
Francis will become by far the highest profile guest ever to visit Turkey's new presidential palace, only inaugurated this October to coincide with longstanding Prime Minister Erdogan's transition from head of government to head of state. The building is by no means universally popular. The lavish, 1,000-room palace has cost just over 500 million euros (well over $600 million) so far, with a major mosque complex and other extensions still reportedly planned.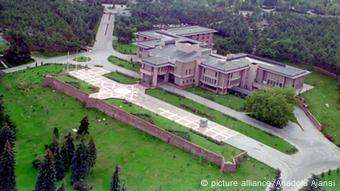 With 1,000 rooms, Francis should find a place to put any superfluous robes
The presidential palace, tentatively called Ak Saray ("White Palace") was built under controversial circumstances, in a wooded area within the Ataturk Forest Farm in Ankara. The construction went ahead despite environmental concerns and court orders, prompting its critics to instead call it Kacak Saray ("Illegal Palace").
The head of an Ankara architects' organization, Tezcan Karakus Candan, wrote a letter to the pope on behalf of the group, asking him "not to take part in the planned ceremony in an unapproved building."
The Vatican acknowledged receipt of the letter but said that the pope would of course meet Erdogan where his host requested.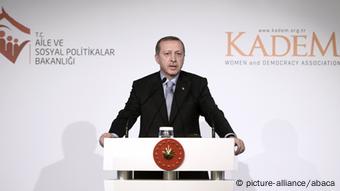 Erdogan might be grateful for distractions, amid the focus on his recent comments on gender
"Like any polite person, the pope will go to the place where the president wishes to receive him," Vatican spokesman Federico Lombardi said.
Orthodox appointments in Istanbul
Erdgoan also wrote to the pope ahead of Friday's visit, saying he had "favorably followed" Francis' "worthwhile efforts for world peace, fraternity and for peace amongst peoples" since taking up the papacy.
Turkey's own Christian community is tiny, comprising some 80,000 people in a country of some 75 million Muslims, but stretches across many denominations. Francis is expected instead to focus his speeches on the plight of Christians throughout the Middle East, not least in war-torn Iraq and Syria, where their numbers are demonstrably dwindling.
In Istanbul, the pope will meet Ecumenical Patriarch Bartholomew, the spiritual head of some 300 million Orthodox Christians worldwide, as part of his efforts to improve ties between the ancient western and eastern wings of Christianity.
msh/kms (AFP, Reuters)