Turkish President Recep Tayyip Erdogan on Tuesday accused the West of breaking its promises on Syria and accused the US-led coalition of backing terror groups, including the so-called "Islamic State" (IS) jihadist group.
"They (the West) are supporting all the terror groups -- the YPG, PYD but also including Daesh (IS)," Erdogan said at a conference alongside visiting Guinean President Alpha Conde. "It's quite clear, perfectly obvious," he said, adding that Ankara had could readily provide photographic and video evidence.
The US has worked with the Kurdish Peoples' Protection Units (YPG) and Democratic Union Party (PYD) on the ground in Syria, groups Ankara recognizes as terror organizations. However, US State Department spokesman Mark Toner staunchly denied that it has supported IS, dismissing Erdogan's accusations as "ludicrous."
Turkey's president had made similar claims in November during a visit to Pakistan, where he alleged that "the West stands by Daesh," adding that IS was using Western-made weapons.
Turkey's bloody battle for Al-Bab
Erdogan's comments come amid Turkey's major incursion inside Syria to combat IS and Kurdish militia forces. Its military has met fierce resistance on its quest to capture the Syrian town of Al-Bab, located some 30 kilometers (18 miles) south of the Turkish border, from IS militants.
At least 37 Turkish soldiers have died since Ankara launched its offensive into Syria in August. However, casualty figures have risen sharply recently with the Turkish Armed Forces reportedly suffering 16 causalities on December 21 in the fight for Al-Bab.
Erdogan made no mention Tuesday of a video released by IS on December 23 purportedly showing two Turkish soldiers being burnt alive.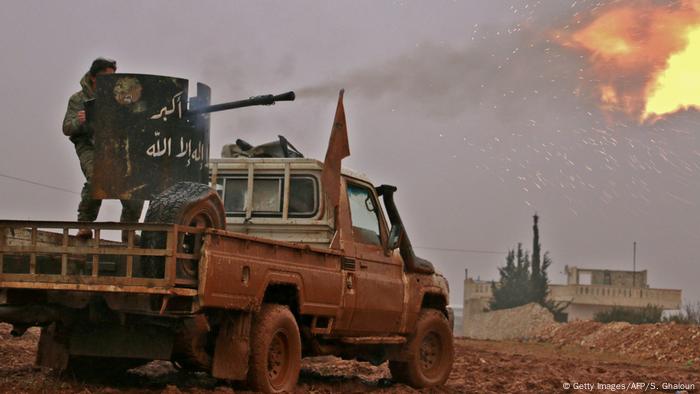 Ankara is backing Syrian fighters as part of its incursion against IS militants in the town of Al-Bab.
Erdogan calls for Saudi Arabia and Qatar to join Syria peace talks
Erdogan said he wants Saudi Arabia and Qatar to partake in next month's Syria talks in the Kazakh capital of Astana. The Turkish President said that the two states had "shown goodwill and given support" to Syria.
After Turkey, Russia and Iran brokered a temporary ceasefire deal for the evacuation of civilians and militants from the besieged city of Aleppo, the three states have agreed to hold talks on permanent ceasefire agreement.
Turkey, Saudi Arabia and Qatar are among the main backers of rebel groups fighting to topple Syrian President Bashar Assad. Russia and Iran, meanwhile, are the Syrian government's key allies in the devastating five-year civil war, which has seen more than 300,000 people killed and half the population displaced.
However, Erdogan warned that Turkey would withdraw from the talks if any "terror organizations" are invited, referring to Syrian Kurdish military groups aligned with Kurdistan Workers' Party, a nationalist insurgency group in Turkey.
dm/kl (AP, AFP, Reuters)