Oslo's district court was urged Tuesday by Norway's Nature and Youth group and Greenpeace to cancel 10 prospect licenses granted by Norway in 2016, allegedly in breach of Paris accord.
Reflecting anti-fossil-fuel sentiment at Bonn's current COP23 climate conference, the third complainant at the hearing set to run until November 23 is Norway's Grandparents Climate Campaign.
The license recipients included Norway's state-owned Statoil, the US giants Chevron and ConocoPhillips, Germany's DEA, Russia's Lukoil, Sweden's Lundin, Japan's Idemitsu and OMV of Austria.
Zones largely untouched
Three of the license zones are close to Norway's largely non-prospected maritime border with Russia.
2012: Drilling for fossil fuels in the Barents Sea
The Barents Sea lies north of Norway and its harbors are sometimes ice-free because of warmer Gulf Stream waters from the North Atlantic.
One of these zones is the northernmost ever opened by Norway to prospecting, prompting the environmentalists to warn of ice floes collisions and potential oil spillage in the Arctic.
'Irreversible consequences'
The environmentalists' lawyer Catherine Hambro told the court Norway was barred by its own constitution from allowing further lucrative offshore oil extraction because it would have "irreversible consequences."
"It is clear to us that this new search for oil is in violation of the Paris Agreement and the Norwegian constitution," Greenpeace's Norway spokesman Truls Gulowsen said on the eve of the court hearing.
"The Norwegian government, like every government, has an obligation to protect people's right to a healthy environment," said Ingrid Skjoldvaer, a spokeswoman for Nature and Youth (Natur og Ungdom).
"It is us, in the younger generation, and our children, who will feel the worst effects of this oil being burned," she said, referring to rising atmospheric carbon dioxide levels blamed for climate warming.
Greenpeace, long a protester in Arctic waters, won a ruling in 2013 from an international tribunal that Russia pay millions to the Netherlands for the seizure of a Greenpeace icebreaker.
Case invalid, says Norway
Ole Berthelsen, spokesman for the energy ministry of Norway, whose crude oil production has shrunk by half since 2001, replied that the validity of the licenses could not be "attacked on this basis."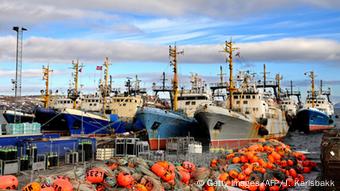 Russian trawlers in Norway's Barents Sea port, Kirkenes
Norway was one of the first countries to ratify the 2015 Paris Agreement and currently has a large number of electric cars, with sales of combustion-only engines to be phased out by 2025.
Its decades of oil extraction has enabled it to build up a sovereign fund worth around $1 trillion (858 billion euros).
Worldwide precedent
University of Oslo law professor Ole Kristian Fauchald told Norwegian NRK public broadcasting the case was being watched from abroad.
"What happens in Norway in this case will have an effect on how these issues are considered elsewhere," said Fauchald.
ipj/rc (AFP, Reuters)