Cooperatives have experienced a revival in Germany. In 2006, eight new energy cooperatives were founded. In 2011 alone, this number was 167. And the German Cooperative and Raiffeisen Confederation expects the figure to be even higher for 2012.
This kind of growth is vital if Germany wants to phase out its nuclear energy dependency by 2022. By promoting energy policy at the local level, communities all over Germany are profiting from renewable energy sources and the power of cooperatives.
A typical example of this growth is seen in the Horb Ecumenical Energy Cooperative in Stuttgart, which has implemented several solar power plants. Bernard Bok was a driving force in this task: before his retirement he was on the board of the local cooperative Volksbank, so he was interested in helping the cooperative.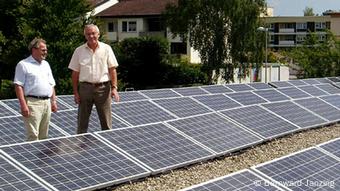 Horb Ecumenical Energy Cooperative in Stuttgart produces solar energy
For him there was no question, the development of renewable energy needed the strong legs of a cooperative to stand on. "We are in a country of cooperatives," said Bok.
Nowhere in Germany are cooperatives represented more strongly than in southern German. Small-scale farming was expected to expand so local farmers organized themselves into agricultural cooperatives.
Citizen participation instead of anonymous investors
In the mid 19th century, cooperative were born out of necessity. But today, people come together for different reasons: the desire for self-government and citizen participation is growing stronger. People are looking for an alternative to unknown investors and prefer to follow their own agenda istead of being dependent on others.
Thus, in times of global economic turmoil, local communities and civil societies are a deliberate counterpoint to the international financial markets. Often traditional cooperative banks, such as the Volks- and Raiffeisenbank, participate in the funding and financing of local cooperatives.
Large projects are possible
The range of energy cooperatives is large, and it is not limited to just solar or wind power. For example, a cooperative in the community of St. Peter in the Black Forest last year built a plant for local thermal power.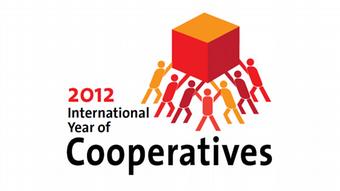 Logo 2012 International Year of Cooperatives
A modern wood heating plant provides heat for the town of 150 houses, which have made oil heaters obsolete. About 8,500 meters of piping were laid in the village for the cooperative.
To complete the project, different stakeholders came together from over the region each bringing their own specific professional knowledge. Markus Bohnert, a board member of the citizens cooperative, has worked as a forester. Other supporters had backgrounds in heating construction, building design or marketing.
The idea for this cooperative started in 2007. A subsequent survey of all citizens of St. Peter showed that people were very receptive. Above all, the major local consumers wanted to be a part of the project including municipal buildings, church facilities, as well as many hotels and restaurants it the town center. As a result, "People's Energy of St. Peter" was founded.
Added local value
The success of cooperatives and their current boom is not just reliant on the desire of citizens to promote alternative energies and to strengthen the local economy. An amendment to the law regulating cooperatives has also helped with the success. Since August 2006, a new cooperative law has made the establishment of cooperatives much easier in Germany.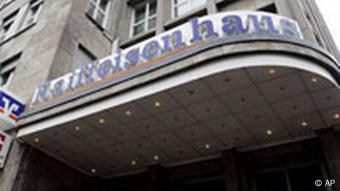 The Raiffeisen Bank gives credits to people who want to set up cooperatives
The number of people required to found a cooperative has dropped from seven to three people. Similarly, the required number of board members was reduced for small cooperatives.
With these changes, cooperatives have been gaining speed: According to the umbrella organization for cooperatives in Baden-Württemberg, southern Germany, one in three citizens are a member of a cooperative.
Author: Bernward Janzing / hc
Editor: Anke Rasper