When a young Elvis Presley disembarked on October 1, 1958, with a duffel bag slung over his shoulder, hundreds of mostly female fans offered the 23-year-old GI a warm welcome. At least since his first million-selling hit, "Heartbreak Hotel," German teenagers had also fallen completely under the King's spell.
Elvis Presley revolutionized music by combining country with the blues, styles associated with white and black musicians, respectively. His trademark move - a suggestive swing of the hips - set off waves of protests among the conservative-minded, while his fans could hardly contain themselves.
Crooning love songs like "Love Me Tender" or "Don't" melted women's hearts, so it's no surprise that any number of German Fräuleins fell at his feet.
Throngs of fans
On October 1, 1958, Elvis Presley arrived by train in the small town of Friedberg, where he would carry out his military service. But even as a private, his officers offered him special treatment. He stayed just a couple of days in the barracks before moving into a hotel in nearby Bad Nauheim, accompanied by his father, grandmother and two body guards. The hotel has since left the "Elvis Room" - number 10 - just as it was back then.
Later, the Presley clan rented a house. It was thronged day and night by fans who hoped for an autograph from their idol. And the King's admirers kept the US Army's seamstresses busy, often tearing the emblem off of his military jacket. Elvis seemed to take it all in stride, offering a kind word here and there while showing a particular fondness for joking around with kids.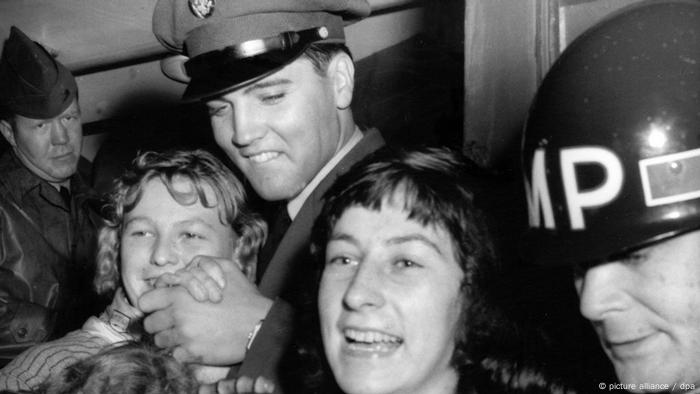 Wherever Elvis went, the fans were sure to follow
Laid-back life as a soldier
GI Elvis was expected to fulfill only some of the duties of his soldier peers. He preferred spending his time with fast cars, beautiful women or visiting rocker colleague Bill Haley during the latter's concert in Frankfurt. In 1959, Elvis found the special one when he got to know Priscilla Beaulieu, then the 14-year-old daughter of a soldier. A few years later, she would become his wife.
There was also enough time left over for making music. For the album cover of "A Big Hunk o' Love," his manager chose a castle gate at Bad Nauheim as the background image. To this day, fans make a pilgrimage to the little town to copy his picture. Germany was also the birthplace for two of the King's 30 number one hits: "One Night" and "A Fool Such As I"
Elvis was prevented from giving concerts during his military service, with one exception. For two hours, he sang at a little inn in Grafenwöhr, Germany, for the owner and his staff after being allowed to stay there for four days with his father incognito, while being spoiled with schnitzel and pancakes.
Unforgotten in Hesse
Presley's military service in Friedberg lasted until March 2, 1960. Then he flew home and never returned. But he took at least one souvenir with him: the popular German folk song, "Muss I denn zum Städtele hinaus," which in Elvis' English version conquered the world as "Wooden Heart."
Elvis Presley died on August 16, 1977, but he lives on in Bad Nauheim and Friedberg. Every summer since 2002, the "European Elvis Festival" has been staged in his one-time home. Visitors from around the world celebrate the rock legend with Cadillac Corsos, Elvis impersonators and, of course, plenty of rock 'n' roll.