Maria Tanese sings "He who betrays love will be punished by God" (Cine iubeste si lasa). That curse on unfaithful souls marked Tanase's debut on Radio Bucharest in February 1938. With it, she laid the foundation for a stellar career - appearing on popular theater stages in the Romanian capital within just a few months. Her incomparable voice had taken compatriots by storm.
Singing in the garden
Maria grew up in a rural suburb of Bucharest, where her parents ran a garden center. Her father, it was said, only hired women who worked hard and could sing beautifully. Songs from around the country were thus sung on the garden terrace in the evenings, where an entranced little Maria would absorb them: drinking songs, lullabies, love songs full of longing, gypsy tunes, and of course, doina - the Romanian kind of "blues." "Doina din Maramures" is an example of this style in which the singer's voice pierces the heart.
Celebrated in the Paris of the East
When Tanase moved away from home, she entered a whole new world in the hustle and bustle of Bucharest. In the decadent 1930s the Romanian capital was considered the Paris of the East. Intellectuals and the bourgeoisie would gather there and talk until they were blue in the face in the urban salons that were also home to popular vaudeville and theater shows. It did not take long for people to recognize the talent of someone like Maria Tanase. Other artists sang songs from a particular region, but Tanase could sing melodies from across the country: from Maramures in the North to Oltenia, from Transylvania to Wallachia.
Tanase interpreted the songs of her country like none other
With her ability to make those songs her own, Maria Tanase bestowed a national identity on her torn country, say music experts. She could sing sad and happy songs with the same fervor, and performed drinking songs such as "Butelcuta mea" (My little wine bottle) so convincingly, one would think she had had experience with having one too many drinks herself.
Magical voice
One of Tanase's great admirers was Constantin Brailoiu, a music ethnologist and founder of the Romanian Folklore Archive. "With her interpretations, this woman created the folk songs a second time around," he stressed.
Tanase was also widely celebrated abroad. She received honorary citizenship from Turkey. She had the world at her feet at the 1939-40 World's Fair in New York. People were riveted by her voice when she sang about the ephemeral quality of life in the song "Lume Lume." Yet she was not able to enjoy an international career: for one thing, following World War II, she was stuck behind the Iron Curtain. For another, she did not like performing outside of Romania; she just got too homesick.
Courageous commitment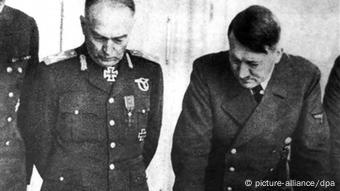 Ion Antonescu supported Hitler
When dictator Ion Antonescu came to power in September 1940 and made a pact with the fascist, antisemitic legionary movement - or "Iron Guard," Tanase came into disrepute. Her circle of friends was deemed too democratically oriented; she was seen as working too hard to prevent her Jewish colleagues from being deported to labor camps.
The regime began a smear campaign against Tanase, and she was forbidden to perform. The propaganda ministry even ordered the annihilation of all of her radio recordings because the singer had allegedly falsified Romanian folklore. Luckily, most of the recordings could be saved, including "Trenule, masina mica." In the song, a woman curses a train that is taking her lover away to the city, where he will work for months on end while she remains isolated at home, waiting for him.
From the heavens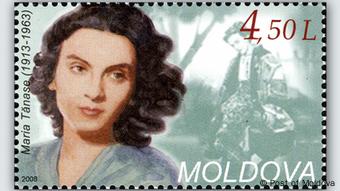 A postal stamp from 2008
When Tanase died of cancer in June 1963 at the age of 49, a whole nation paid their respects. Balconies and windows were filled with people during the funeral procession. Tens of thousands of workers left their factories - all of them wanting to accompany the singer to her final resting place. In "Frica mi-e ca mor a moina," Tanase sings about the fear of being forgotten by one's lover after dying. This was not something the immortalized singer to fear: her fellow Romanians never forgot her courageous commitment to the persecuted.
Book tip: In "The Nightingale of the Mulberry Garden" (Maria Tanase - Privighetora Din Livada Cu Duzi), Maria Rosca paid tribute to the ledendary singer.