They approach silently and in the dead of night. Poachers, equipped with modern night vision devices and poisoned darts, are killing Kenya's elephants.
They wipe out whole families and tear small tusks from baby elephants' carcasses. Heavily armed poachers do not even stop at national parks' borders.
Five years ago about 50 elephants were killed in Kenya every year, says Patrick Omondi, head of species conservation and management at the Kenya Wildlife Service. But this year alone more than 300 elephants were killed, he says, "despite our counter actions: We carry out surveillance flights and have rangers who follow the herds."
Face-to-face encounters between rangers and poachers often ends in a shoot out. Armed exchangers between the two sides has seen 30 poachers and six rangers lose their lives this year, Omondi says.
25,000 dead elephants
The war against poachers is taking place everywhere in Africa. Experts estimate that 25,000 elephants were killed across the continent last year. That is more than during all the past years since 1989 combined, the year when ivory hunting was officially banned. Back then, the prices were decreasing and poaching decreased.
But nowadays poaching is extremely profitable again. A team of international researchers recently showed that the black market prices for ivory have doubled around the Samburu National Reserve in the centre of Kenya during the last five years.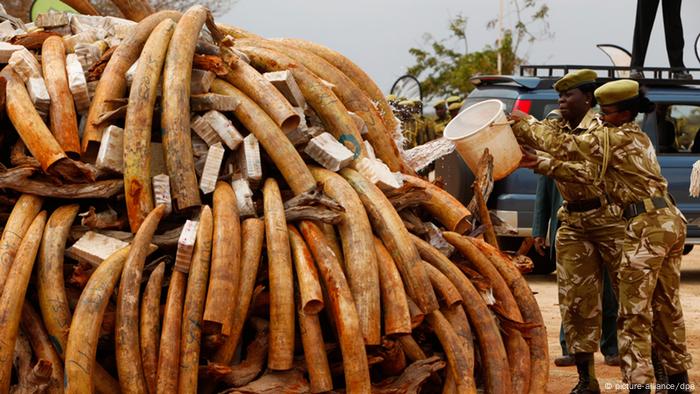 Kenyan rangers prepare to burn 4.6. tons of ivory in Tsavo West National Park.
A rising demand for ivory in China is keeping the market going, says Allan Thornton, chairman of the Environmental Investigation Agency, EIA, an organisation that contributed in achieving the embargo of 1989 and that goes undercover in China.
"Ivory jewellery and ornaments have become a new status symbol for many newly rich in China," he told DW. 1.3 billion people makes China a huge market with increasing buying power.
Ivory smuggling still rampant
The Chinese authorities cannot control the illegal movement of ivory around the world, says Allan Thornton. He estimates that 90 percent of all the ivory brought into China is illegal.
The country's consumption really took off back in 2008, says Thornton. Back then, the Washington Convention enabled several African states such as Botswana, Namibia, South Africa and Zimbabwe - to sell 108 tons of state-owned ivory. Most of it originated from the time before 1989 or from elephants that died of natural causes.
The majority of that ivory went to China. "That is when the Chinese ivory market first came into being," Thornton says.
A worldwide Ivory-Mafia
Nowadays, criminal networks from China organise fresh ivory supplies from Africa. They work in Africa, just like many other large Chinese companies.
Ivory transport across Africa flows smoothly, says Tom Milliken. He works for the partly public organisation Elephant Trade Information System (ETIS) which works on tracing the trade route of the smugglers. Local security workers are simply not up to the task or they earn money from the smuggle trade as well.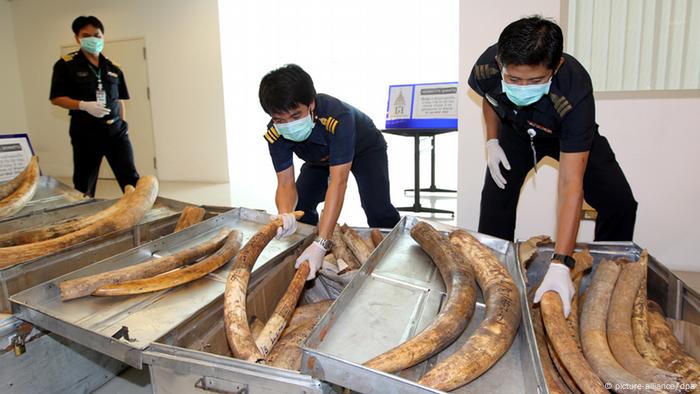 On its way to Asia: Smuggled ivory at the airport in Bangkok
Some middlemen of these criminal groups even recruit members of rural populations for poaching, Thornton says. For the mostly poor farmers the offer is tempting. A study by the Samburu National Reserve showed that the tusks of one single elephant bull yield more money than ten of the farmers' year's salaries.
"Ultimately, they make the local people enter illegally into the national park and kill the elephants," Milliken told DW.
Ivory finances armed conflicts
Even militant groups like Somalia's Al Shabaab and the Congolese Lord's Resistance Army are said to have entered into the ivory trade. The Sudanese Janjaweed, gunmen that operated in the Darfur conflict, were held responsible for the deaths of 400 elephants in the north of Cameroon. It is believed that they financed new weapons with selling their ivory.
The US Secretary of State Hillary Clinton also warns that ivory can finance armed conflicts. The worldwide criminal network of this business is a global problem, she was recently quoted as saying.
Clinton is working on an international coalition against the trade in animal parts. She also plans to promote protection of African elephants at the highest political level in Asia when she is there in the future.