Kandil spoke at Gaza City's Shifa hospital after being shown the body of one of two people said by Palestinian sources to have been killed by Israeli planes in the Nazila area of northern Gaza.
"Egypt will not hesitate to intensify its efforts and make sacrifices to stop this aggression and achieve a lasting truce," Kandil said.
Before Kandil's arrival, Ismail Haniyeh - the leader of the Hamas movement, which runs Gaza - had urged neighboring Egypt to do more to help the Palestinians.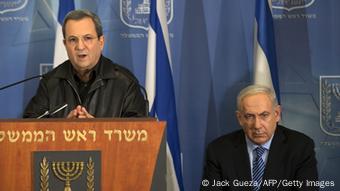 Israeli leaders have threatened to expand military operations
Israel announced that it had suspended military operations during Kandil's three-hour visit and accused Palestinian militants of firing more rockets from Gaza while the prime minister was present.
"Even though about 50 rockets have fallen in Israel over the past two hours, we chose not to attack in Gaza due to the visit of the Egyptian prime minister. Hamas is lying and reporting otherwise," the army said in a social network message.
A blast and then sirens were heard in Tel Aviv, Israel's commercial hub, early on Friday afternoon. Israeli police said no casualties had been notified. On Thursday, a rocket hit the sea just south of Tel Aviv, the farthest distance ever attained by fire from Gaza, in an attack claimed by the armed wing of Islamic Jihad.
Tolls rising
Palestinians raised their death toll since Wednesday to 21. Three Israelis were killed by a rocket in a town north of Gaza on Thursday.
In pre-dawn strikes, Israeli warplanes bombed open land along the border zone. Self-propelled heavy artillery could be seen nearby. The Israeli military said it had started drafting 16,000 reserve troops and said it had targeted rocket and ammunition sites allegedly belonging to Palestinian militants.
Deputy Prime Minister Moshe Yaalon wrote in another message that Israel os "preparing for all the military options" if Palestinian militants fire more rockets. Israel invaded Gaza in early 2009.
EU alarmed by escalation
European Union foreign policy chief Catherine Ashton said on Friday she hopes Kandil's visit would help to calm the situation.
"I am deeply concerned at the escalating violence in Israel and the Gaza Strip and deplore the loss of civilian lives on both sides,"
"The rocket attacks by Hamas and other factions in Gaza which began this current crisis are totally unacceptable for any government and must stop," she said.
"Israel has the right to protect its population from these kinds of attacks," Ashton said. "I urge Israel to ensure that its response is proportionate."
German Foreign Minister Guido Westerwelle also condemned the rocket attacks while warning against further escalation of the conflagration.
"Hamas rocket attacks from Gaza are responsible for this escalation and have caused significant damage and many casualties on the Israeli side," Westerwelle said in an interview with the German public radio station Deutschlandfunk. Israel had the right to defend itself and to protect its citizens, he added.
In Geneva, a spokesman for Navi Pillay, the UN High Commissioner for Human Rights, urged both Israel and Palestinian militants to "pull back from an increasingly dangerous confrontation. Spokesman Rupert Colville said Pillay was "appalled that once again civilians are losing their lives."
The bloodshed flared on Wednesday when an Israeli air strike killed top Hamas military chief Ahmed Jaabari, prompting rocket firings by various Palestinian militant factions from Gaza and more Israeli sorties.
ipj/mkg (AFP, AP, Reuters, dpa)