"Egypt is witnessing its most glorious days of freedom - and I'll cut off the tongue of anyone who says otherwise," Youssef said, allowing himself a few parting shots at the news conference in the Cairo theater where his show was performed.
Youssef's satirical show AlBernameg, or The Program, was broadcast on the Saudi-funded MBC network. The heart surgeon turned comedian said that the pressure on him, his family, and MBC had become too great.
"For the millionth time, I say this is supposed to be a comedy show," he said Monday. "I am not a fighter or a warrior. I was just expressing my views once a week … but honestly, I am tired of struggling and worrying about my safety and that of my family."
'Climate now is not suitable for a comedy'
His show was scheduled for return on Friday after one month off the air, only the latest in a string of interruptions.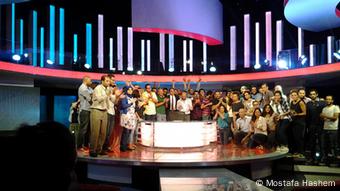 Better to stop than sell out, the AlBernameg crew concluded
Egypt's national media landscape has become increasingly nationalistic since incoming president, former army chief Abdel-Fattah el-Sissi, ousted Islamist President Mohammed Morsi last summer. Sissi won a landslide victory, in a vote with low turnout boycotted by supporters of Morsi's Muslim Brotherhood, in presidential elections held last week. Youssef had referred to the polls, extended at the last moment to a third day in a bid to boost turnout, as the "oh so amusing elections."
The Muslim Brotherhood has been outlawed since the coup, which had followed major protests against Morsi's government.
Youssef rose to fame in the aftermath of the uprising against longstanding President Hosni Mubarak in 2011, first posting short satirical videos to YouTube. He also appeared in June 2012 on Jon Stewart's news satire program "The Daily Show", which AlBernameg is often said to emulate.
Defying Morsi and the military alike
The former heart surgeon faced several investigations during Morsi's rule for allegedly insulting the president and Islam, but the pressure has not subsided since the military takeover. Last November, the previous host channel CBC pulled AlBernameg just minutes before it was due to air, with Youssef returning on MBC in February 2014. "The Program" was also rebroadcast on DW TV's Arabic language channel, becoming a viewers' favorite.
"The satirical show's cancellation is a bad sign for freedom of expression in Egypt," DW director general Peter Limbourg said. "Bassem Youssef has shown lots of courage already. We completely understand his decision."
Youssef fired a final salvo at Sissi even during his farewell press conference. When asked to give a reason why the show was going off-air, he quoted a Sissi television interview from the presidential campaign: "I can't give you a reason, not that I don't want to." Sissi's choice of phrase, which has a sexual connotation in Egyptian Arabic, was widely mocked on social media at the time.
Holding up a placard reading "The End," Youssef and his team said that "pulling the show off the air is a victory for it," because they preferred to end the program rather than "offend it" by conforming to censorship.
msh/dr (AP, dpa)