Rioting has entered a fourth day in the Egyptian capital Cairo, where police have blocked roads to the interior ministry and fired tear gas against protesters.
The protesters have thrown stones and petrol bombs at police lines, but they deny intending to storm the ministry
By Saturday, the death toll from the riots in Cairo and the town of Suez had reached 12.
And an attempt to negotiate an end to the violence, led by a group of lawmakers and public figures, appeared to have failed.

Protesters are calling for the removal of Egypt's military rulers, whom they accuse of exacerbating the fragile situation in Egypt since the fall of President Hosni Mubarak in 2011.

The violence started on Thursday in response to what witnesses said was the failure of authorities to contain clashes at a football match in the northern city of Port Said in which 74 people died.
Pipeline blast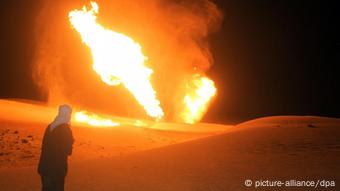 The vital gas pipeline has been attacked 12 times in the past year
Meanwhile, a vital gas pipeline in Egypt's Sinai Peninsula was attacked on Sunday, halting exports to neighboring Israel and Jordan.
The pipeline has been attacked 12 times in the past year - the first attack was during the mass uprisings that drove President Hosni Mubarak from power in February 2011.
Security officials say Islamist militants are responsible for the attack.
Many Egyptians complain that gas exports to Israel are being sold at an unfair price. Egypt and Israel signed a 20-year gas deal when Mubarak was still president in 2008.
za/acb (AFP, Reuters, AP, dpa)