The Egyptian army announced a new offensive against the "Islamic State" insurgency on Friday. The operation will target militants in the Nile Delta and the northern Sinai Peninsula.
The offensive takes place less than three months after an attack at a mosque in North Sinai, where more than 300 worshippers died at the hands of militant gunmen. Although no one claimed responsibility, officials said the group had carried an "Islamic State" flag.
Read more: Egypt mosque bombing kills more than 300 worshippers
After the attack, Egyptian President Abdel-Fattah el-Sissi ordered the military to use all necessary force to end attacks by militants in the volatile peninsula within three months.
All security forces involved
A statement by the army explained that the new operation seeks to "clean up areas where there are terrorist hotbeds."
The new offensive will involve the air force, the navy, the army and also the police forces. A few hours after the announcement, Egypt's air force targeted hideouts and arms depots used by suspected militants in Sinai.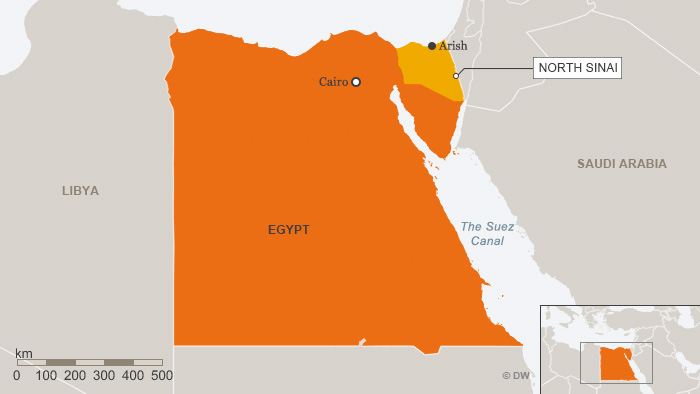 Border guards and police forces will tighten border security measures and increase their presence in vital areas. The navy will also enforce tight security measures across maritime borders "to cut off supply lines for terrorist elements," the statement added.
Additionally, in an earlier televised address, army spokesman Col. Tamer al-Refai called on Egyptians to support the new operation, to "cooperate" with the forces and "report immediately any elements that threaten the country's security and stability."
Read more: Egypt announces major security shake-up after militant attacks
Hotbed of extremism
Egypt has been increasingly targeted by jihadis since the overthrow of Islamist former President Mohammed Morsi in 2013.
While attacks against the military, police and churches have occurred all over the country, the North Sinai province has borne the brunt of the extremist violence.
Jihadis have also targeted tourists, killing all 224 on board a Russian plane carrying holidaymakers in 2015.
Read more: Egypt's tourism industry suffers a critical blow
jcg/sms (dpa, AFP, AP)