Wikileaks founder Julian Assange's eviction from Ecuador's embassy in London now looks unlikely after the country's new president Lenin Moreno said he could remain in the diplomatic building.
The Wikileaks founder has been holed up there for the past five years after applying for asylum in Ecuador to avoid arrest in connection with sexual assault allegations in Sweden.
Moreno, who was sworn in earlier this month, accused Assange of being a "hacker," but added "I respect the situation he is in, which calls for respect of his human rights."
He warned the Wikileaks boss against interfering in the internal politics of Ecuador or other countries.
Assange has been fighting extradition to Sweden over rape allegations, fearing that the Stockholm government would hand him over to US investigators to face prosecution over one of the largest information leaks in US history.
Read more: Assange - 'Only 1 percent' of the CIA material has been published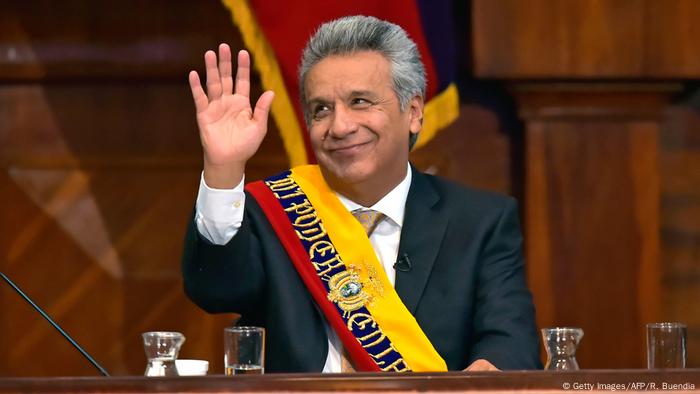 Assange's future was in doubt during Equador's election campaign but new president Lenin Moreno says he won't be evicted
Although Sweden earlier this month dropped the case, Britain said Assange still faces arrest in London for jumping bail in connection with the rape investigation.
"It seems the British government is not going to grant safe passage (to Ecuador), meaning that Mr Assange can continue living in the Ecuadoran embassy, and we will respect that condition," Moreno said.
Assange dodged an eviction order during Ecuador's April election, after the right-wing presidential candidate who had vowed to kick him out of the embassy lost to Moreno.
Read more: CIA chief Pompeo brands WikiLeaks a 'hostile' spy agency
Assange responded to Moreno on Twitter that even the US doesn't call him a hacker, despite his organization's leak of thousands of classified US military and diplomatic documents.
mm/rt (AFP, AP, Reuters)