They bridge ecology with sexology, encourage "cross-pollination" between environmentalists and artists, and insist that the Earth "is multiple genders." Annie Sprinkle, a sex educator from Philadelphia, and her partner Elizabeth (Beth) Stephens, an art professor with the University of California (UC), Santa Cruz, are pioneers of ecosexuality.
This new offbeat movement is set to infuse environmental topics with a playful, Eros-inspired approach to enliven the monotony of the mostly negative narratives about environmental destruction.
"Sex is about connections. It is about ecologies,"Stephens, 56, told DW in a Skype interview from California.
Who are these passionate preachers of a new, Earth-loving sexual identity: eco-hippies or shock-gurus? Visionaries with a New Age twist, or gender-bending freaks?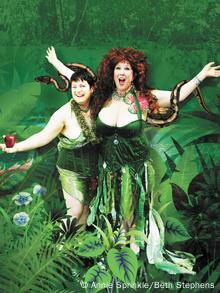 Stephens (left) and Sprinkle as Adam and Eve
S is for seduction
"We want to provoke people to love the Earth, so that they will stop destroying it," said Sprinkle, who is 62.
Ecosexuals see our planet as a romantic partner. They take vows at ecosex weddings, treat it with sensuality, and have free "intercourse" with the air, soil, and water.
By shifting the cultural metaphor from "Earth as mother" to "Earth as lover," they aim for a more liberating, sustainable, and equal relationship with nature.
When asked directly what this movement is really about, Annie Sprinkle does not hesitate for a second. "It is about seduction," is her answer.
'We made it a rhizome'
Despite their promotion of the movement, Stephens and Sprinkle did not coin the term "ecosexual."
This term first emerged in the beginning of the 21st century in the dating world to describe a person with a high level of environmental awareness (think "metrosexual").
Some of the basic ideas behind the concept are not new as well - they have floated through cultures and centuries, only to surface here and there: in the form of thePriapeia festivals in Ancient Greece, or tantric traditions of Hinduism.
Nevertheless, Annie Sprinkle and Beth Stephens can still be regarded as pioneers. They took the existing category and turned it into a new identity - and an activist strategy.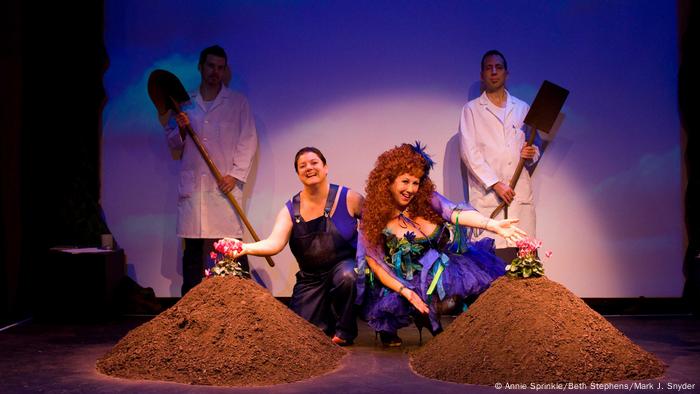 Dirt: Fertile, so why not make love with it?
"It is an art, a sex, and an environmental movement - but also a theoretical platform to develop new ideas of liberation and freedom. Not just for humans, but for non-humans, more-than-humans and the Earth," Stephens explains.
As with most of their insights and word creations, as the term sprang to life, it grew immediately offshoots of new connotations. "We made it a rhizome," she adds.
Manifestos, eco-weddings and H2O talks
The duo "came out" as ecosexuals after a "green wedding" with the Earth in 2008 in Santa Cruz.
Three years later, their doctrinal Magna Charta - the Ecosex Manifesto 1.0 - was introduced at a visual art exhibit in San Francisco. In 2015, the proclamation to all the "aquaphiles, teraphiles, pyrophiles, and aerophiles" on Earth was updated to become a morepoetic and intense 2.0 version.
Under the aegis of the new movement, a variety of activities began to bud - among them more than 19 weddings to different nature entities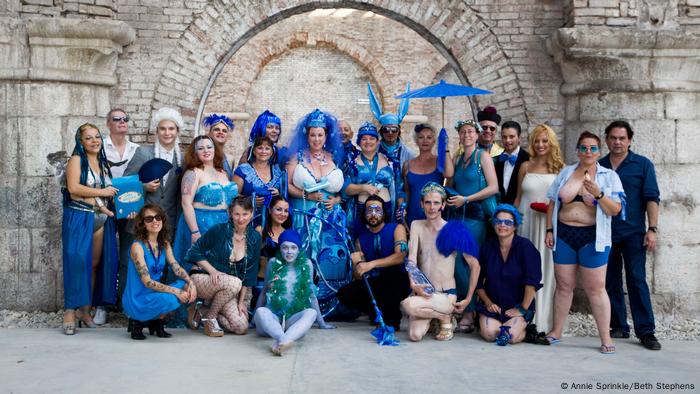 Venice: romantic not just for couples, also for this ecosex wedding to the sea
These included: the sky (in Oxford England), the sea (in Venice), Lake Kallavesi (in Kuopio Finland), and the Appalachian Mountains (in Athens, Ohio, in the United States).
Throughout the year, Stephens and Sprinkle also hit the road in their Pollination Pod
- a blue camper that rolls from town to town with their dog Butch, a film crew, and a punk vegan cook on board.
"It is a travel van, but also an installation and an art piece," they explain.
Along the way, they conduct pop-up outdoor theater performances, specialty art projects, and H2O talks on how to reduce water usage (keeping in mind California's recent wicked drought).
From eco-sensual clouds to ecosex bacteria
The actual number of people who currently identify as ecosexual around the world can only be roughly estimated.
Based on the number of participants involved in ecosex weddings, symposia, artistic performances and activities of other organizations with similar goals (such as the annual Ecosex Convergence in the state of Washington; Perth-based artist collective Pony Express; or French visual arts association Bandits-Mages), Sprinkle and Stephens finally reach a number.
"It could be anywhere from 25,000 to infinity," they estimate. They find that some people aren't ready to go "all the way" and become ecosexual, but they do remain eco-sensual - or even just eco-curious.
Stephens adds: "But if you count all the trees that we have engaged with, all the clouds we have sent energy to, all these bacteria on our skin, and all the dogs we have petted … You know, they could be ecosexual too."
The first ecosex walking tour in Germany
As activists across a broad spectrum, Sprinkle and Stephens both deal with a range of ecological topics. Their new book, "The Explorer's Guide to Planet Orgasm," introduces their body and nature-intertwining ideas "to the uninitiated."
The couple has also produced an award-winning documentary about the practice of mountaintop removal mining in Appalachia.
They are planning another film, about compost and soil. A third - "Water Makes Us Wet," on the problems of water scarcity in the Golden State - will premiere this September in Kassel, Germany.
Their eco-rendezvous with Germany took place under documenta 14 - the fourteenth edition of the traditional art exhibition, where Stephens and Sprinkle were among the 160 participants.
In June, the duo offered "the first ecosexual walking tour ever in Germany."
The September program includes film screenings, as well as "an evening with wet dreams." Most of those dreams are likely to be dripping with metaphors …
So, are these water-loving and earth-caressing environmentalists shock-gurus or eco-hippies? The answer is just an ocean away.