Dutch anti-Islam politician Geert Wilders launched his election campaign on Saturday by calling the Netherlands' Moroccan population "scum." In December, the Freedom Party leader was convicted of inciting discrimination after spurring his supporters into a chant of "Fewer! Fewer! Fewer!" Moroccans in the Netherlands.
Surrounded by police and security guards in the blue-collar town of Spijkenisse, just south of Rotterdam, Wilders told journalists: "The Moroccan scum in Holland ... once again not all are scum... but there is a lot of Moroccan scum in Holland who make the streets unsafe, mostly young people... and that should change."
"If you want to regain your country, make the Netherlands for the people of the Netherlands again, then you can only vote for one party," the far-right politician said, as a small group of supporters chanted his name.
Wilders then distributed flyers and posed for selfies with supporters. Spijkenisse, an ethnically diverse industrial area, has been a stronghold in recent years for Wilders' Freedom Party.
A populist upsurge
The Netherlands heads to the polls on March 15 in what many see as a litmus test for European politics this year following the last year's Brexit vote and the election of Donald Trump in the United States. Elections will also follow this year in France and Germany, both countries where populist parties are making strong showings.
The Freedom Party has established a strong supporter base with its anti-immigrant, anti-EU platform, and finds itself leading opinion polls with 17 percent. The party's key campaign promises include a ban on Muslim immigrants, shutting down all mosques in the Netherlands and leaving the EU.
Wilders, famed for his peroxide hair, hopes that the global upsurge in populism will propel him to power ahead of his closest rival, current Prime Minister Mark Rutte.
However, even if Wilders wins the popular vote, he will find it difficult to form a government as most major parties have ruled forming a coalition with him. They cite his hardline anti-Islam views as offensive or even unconstitutional.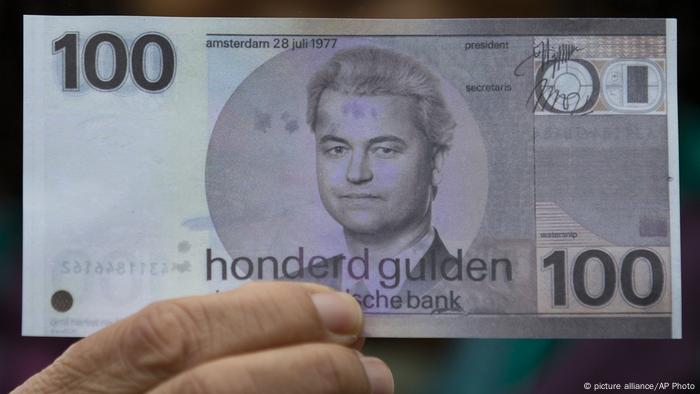 Wilders' supporters handed out old guilders notes emblazoned with the Freedom Party leader's face - a symbol of wanting to leave the eurozone and the EU
Social policies also matter
While Wilders' message has resonated with traditional Freedom Party supporters worried about immigration, it is his social policy that appears to have gained the most traction with voters.
While the Dutch economy finds itself growing robustly following years of tough austerity measures introduced by Rutte's ruling coalition, Wilders has said growth is not trickling down into voters' pockets.
People have to "pay more for the rent of their house, pay more when it comes to public health," he said. "Their pensions are being cut and they feel nothing about the better economy."
Rutte has, however, recently seen an electoral boost on the back of an improving economy.
dm/sms (AFP, Reuters)