A horse-drawn carriage carried the 1.1 meter high (3.5 feet), 3.65 meter long (12 feet) and 1.75 meter (5.75) wide mass of deliciousness through the old town to the city's famous Christmas market on Saturday amid a throng of onlookers.
For nearly a week some 60 of Dresden's bakers and confectionaries worked to put the 3,429 kilogram (7,560) stollen together with butter and sugar out of 400 smaller pieces, each weighing eight kilos.
Around 1.2 tons of flour, 750 kilograms of butter, 200 kilograms of sugar and 1.5 million raisins went into the stollen.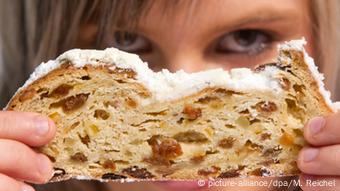 The fruit bread has been a German tradition since 1730
Pieces of the stollen will be sold and part of the proceeds donated to the state opera and to further the advancement of the next generation of bakers.
The first giant stollen weighing in at 1.8 tons was made in 1730 on the order of a local king wanting to impress his guests.
The tradition was revived in 1994.
cw/jlw (epd, dpa)