The government's position paper on security policy, seen by media outlets on Friday, said Germany was increasingly seen as a "key player" in Europe, and had "a responsibility to actively help shape the global order."
It added that Germany could do more at a time when the global community was grappling with threats including terrorism waged by "Islamic State," cybercrime and a more aggressive Russia. At the same time, however, the paper pointed out that there would be clear limits to Berlin's contribution.
"Our larger role in international security policy will not lead to automatic reactions or to pressure for action that conflicts with our values and interests or that overstretches our capabilities," it said.
The document also stressed that Germany would avoid unilateral action, and would instead rely on engagement with the European Union, NATO and a close partnership with the United States.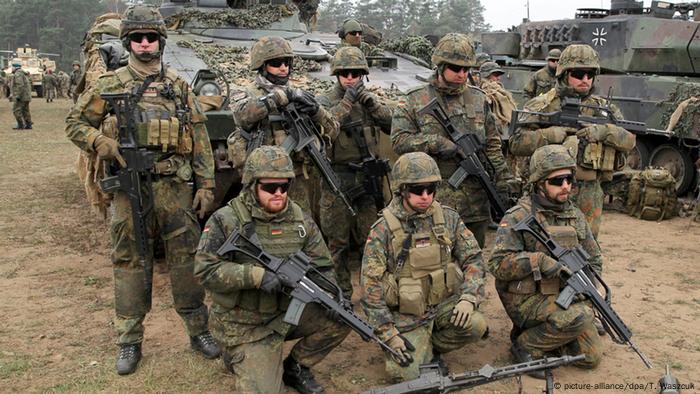 After 25 years of cuts to the military, Germany plans to expand the Bundeswehr by 14,300 soldiers
Bundeswehr shortcomings
The new white paper on security policy, the first of its kind since 2006, aims to provide guidelines for the future operations of the German armed forces. The Foreign and Defense ministries, as well as Chancellor Angela Merkel's office, have reportedly agreed on the draft plan, which is expected to be debated in cabinet before July.
The paper comes a fortnight after Defense Minister Ursula von der Leyen announced plans to boost troop numbers for the first time since 1990. The increases will see 14,300 soldiers and 4,400 civilian soldiers join the military in the next seven years.
The policy document acknowledged that the Bundeswehr faced challenges it was "neither sufficiently trained nor effectively prepared for." It pointed specifically to the subpar standard of equipment, and said the Bundeswehr would need more funds and no "rigid ceilings" on troop numbers in order to be effective.
Germany's military has been steadily shrinking since the country's reunification after the end of the Cold War in 1990. At that time, Germany's armed forces totaled 800,000 military and civilian personnel. Numbers have since dropped to a target of 185,000 troops and 56,000 civilians, according to government officials.
German officials have made similar statements in the past. One of the more recent instances occurred at the annual Munich Security Conference in 2014 when the defense and foreign ministers as well as the president all said it was time for Germany to talk a leading role in global affairs.
nm/sms (AFP, dpa)