Jürgen Klopp made two key changes to his line-up after losing 2-1 to newly promoted Cologne in the Bundesliga over the weekend. Dortmund's starting eleven didn't include a regular center forward - instead speedster winger Pierre-Emerick Aubameyang spearheaded the yellow-and-black attack. And at the back, center-half Sokratis started on the left-hand side.
The strategy was clear: put some steel in the defense and hope to catch Galatasaray out with quick counter-attacks. And the Turkish side walked straight into Klopp's trap.
Only six minutes had elapsed when Marco Reus sprinted up the left and put in an inch-perfect cross for Aubameyang, who easily opened the scoring. Twelve minutes later Dortmund scored a goal that was mirror image of their first. Lukasz Piszczek sprinted up the right and put in an inch-perfect cross for Aubameyang, who easily bagged his brace.
Dortmund's Bundesliga's blues were gone, and four minutes before half time, Reus made it 3-0 with a lovely dipping shot from distance. After 45 minutes, Klopp's biggest worry was where in Istanbul to get a post-match bratwurst and beer.
"Today we could play our game and let our opponents come at us," said a satisfied Klopp after the match. "Above all, we defended with great concentration."
Dortmund ran out the clock in the second half, but still managed to add a fourth goal, when substitutes Ilkay Gündogan and Adrian Ramos hooked up with less than ten minutes to go.
The 4-0 win means that Dortmund retain a welcome three-point lead in Group D ahead of Arsenal. The Gunners came from behind to beat Belgian side Anderlecht 2-1 thanks to a last-minute goal by German national Lukas Podolski.
Leverkusen unlock stubborn St. Petersburg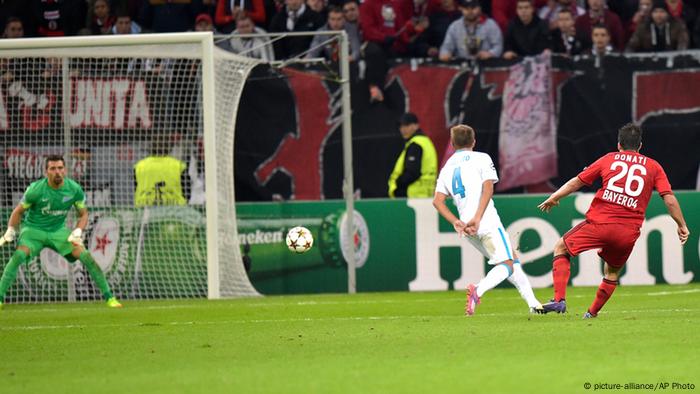 Donati broke the ice for Leverkusen
Bayern Leverkusen had a much more difficult time at home against a defensively well-organized Zenit St. Petersburg. The first half ended goalless, as the Russian kept the lid on Stefan Kiessling and Co.
That changed in the second half. Just before the hour mark Hakan Calhanoglu picked out a charging Giulio Donati, who fired in a hard, low shot past Zenit's keeper.
Zenit's coach André Villas-Boas substituted in an extra attacking midfielder, but it was Leverkusen who doubled their advantage in minute 63. Calhanoglu found Kyriakos Papadopoulos with a free kick, and the burly Greek defender headed it home.
Leverkusen had tossed away a three-goal advantage against Stuttgart on the weekend, so Bayer fans were not counting their chickens. And defender Wendell gave them a bit more to worry about when he picked up a second yellow card and hit the showers ten minutes from time.
But this time round, the Pharmaceuticals held firm and closed out a nifty 2-1 win. With Monaco playing to a scoreless draw against Benfica Lisbon, Leverkusen now sit top of Group C by a point.
Real manhandle Liverpool
In perhaps the most anticipated Champions League match of the night, Spanish giants Real Madrid made short work of English runners-up Liverpool. Cristiano Ronaldo scored one goal, and Karim Benzema two, in the first half, as Real powered past the overmatched Reds.
The 3-0 win gives Real a commanding lead in group B, as Ludogorets Razgrad beat Basel 1-0. It was a historic first-ever win for a Bulgarian side in the Champions League.
In group A, Atletico Madrid hammered Malmo 5-0, and Olympiakos Piraeus upset Juventus 1-0. Atletico top that group ahead of Olympiakos on goal difference.