Dortmund 4-1 Eintracht Frankfurt
(24' Mkhitaryan, 57' Aubameyang, 61' Hummels, 86' Ramos - 6' Meier)
If Dortmund were tired from their Europa League match on Thursday, they didn't show it in the first minutes against Frankfurt. Thomas Tuchel's charges were all over the visitors right from the opening whistle, amassing ninety percent of possession.
So it was a shock that Frankfurt nabbed the lead so early. Frankfurt keeper Lukas Hradecky hoofed the ball upfield, where Haris Seferovic squared it for Alex Meier. Last season's top Bundesliga goal getter curled it past Roman Bürki from 22 meters out.
The goal settled the visitors' nerves, but they were pried open later in the half when a long Mats Hummels pass released Pierre-Emerick Aubameyang. He threaded a nifty pass to Henrikh Mkhitarayan, who equalized from point-blank range.
Dortmund gradually reestablished their dominance and earned a penalty when Slobodan Medojevic brought down Gonzalo Castro in the box just before the interval. Aubameyang, however, blasted the spot kick wide. Medojevic was sent off with a second yellow card, while Dortmund's Marco Reus limped off with an injury.
Nonetheless, it was only a matter of time until Dortmund ground down their outmanned opponents, and shortly before the hour mark, Reus substitute Shinji Kagawa found Aubameyang, who made amends from close in. Four minutes later, defender Mats Hummels belted one in. By that point, Dortmund were cutting into the Frankfurt area at will.
To their credit, Frankfurt kept plugging, and they were hard done by when the referee allowed Adrian Ramos' goal from an offside position just before the final whistle. The 4-1 scoreline means that Dortmund spend the winter break in second. Frankfurt are hovering just above the drop zone.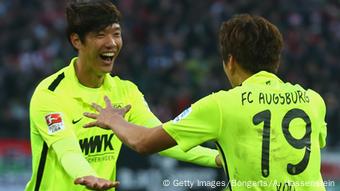 Jong-Ho Hong scored his second goal of the week to give Augsburg the early lead
Augsburg 2-1 Schalke
(Hong 34', Caiuby 90+1' - Kolasinac 70')
A few days after scoring a clutch last-minute goal in the Europa League, Augsburg replicated that trick against Schalke in the Bundesliga. with a 2-1 victory against Schalke. With both teams having competed in the Europa league mid-week, the hosts had just a tiny bit more fuel in the tank, and it made the difference in the end.
While Schalke were switching wingers and bombing down the flanks, Augsburg spent much of the match conserving energy after the quick turnaround. Schalke controlled most of the match as a result but generated few real chances. And Jong-Ho Hong gave Augsburg a first-half lead with a fortunate flick off of a Dominik Kohr shot.
Though Augsburg played with considerable composure, Schalke started to pull their defense apart in the second half. Eric Maxim Choupo-Moting, who scored two goals mid-week in the Europa League, was able to draw Augsburg away from goal just enough to poke a ball through to Sead Kolasinac. The defender equalized. Suddenly Schalke - without an away win since September - felt that three points were within reach.
They were wrong. As the clock ticked down, a botched clearance fell to the feet of Caiuby, whom Schalke's back line somehow overlooked despite Augsburg's nuclear yellow kits. The Brazilian volleyed home to snatch all three points for the hosts. The referee failed to spot an Augsburg handball in the build-up.
"It was a lucky win, but you need luck against a top team like Schalke," Augsburg coach Markus Weinzierl said after the match. "Ten points from our last four matches is phenomenal. We want to continue that."
With the 2-1 win, Augsburg vault all the way up to 13th place, while Schalke tread water in eighth.