Over the past year, the rebel leadership in Donetsk has solidified its grip on power, developing its own state - the self-proclaimed Donetsk People's Republic - and a remarkably efficient local infrastructure independent from the rest of Ukraine.
An important part of this developing 'republic' is an entirely new media scene. Gone are Ukrainian government broadcasters, their buildings seized in the early days of the rebel takeover, the channels no longer available to a regional audience in rebel-held areas.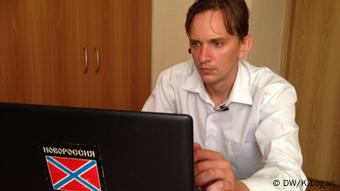 Georgy Morozov heads 'Novorossiya Today' - which echoes the Kremlin-owned 'Russia Today'
Instead a variety of fresh media outlets have sprung up - a pro-rebel news agency, an official media center to host press conferences for the rebel leadership, a 'state-run' newspaper and a number of pro-Russian, pro-rebel TV and radio stations.
One of those is Novorossia Today - named after the rebel ideal to create a 'new Russia,' based on old borders that reach into Ukraine. It employs around 50 staff, including reporters, presenters, cameramen and studio technicians.
Georgy Morozov heads the television output of Novorossia Today's website. This is a completely new line of work for him. Until recently, he worked as an analyst in Donetsk and had no experience of journalism. His career change came about when the conflict in eastern Ukraine began, just over a year ago.
"When the war started, I couldn't stay indifferent to the situation," he told DW. "I started out as a regular militiaman, but then they found a better use for me. Just like a man with a rifle, I could have a purpose."
Getting the message out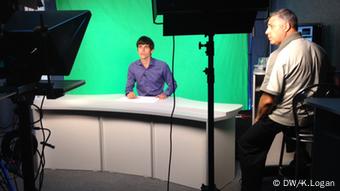 The Russian-backed rebels have learned the value of presentation
Novorossia Today's website reaches out to a local and global audience, in five languages, including English and German. It was born out of a hybrid conflict where the information war has proved just as critical as military battles.
"I don't remember who said this, but who owns the information, owns the world," says Morozov. "Information is important and necessary. We give this information to people, starting with those who live in our (Donetsk and Luhansk) republics, but also reaching those in Ukraine and the whole world. Yes, it is weapon. It's a real weapon and each side is using it as best as they can."
Novorossia Today is self-evidently a pro-rebel news outlet, with an agenda that focuses on news coming out of the self-proclaimed republic in Donetsk, with sources within its leadership. But Morozov says that despite the political pressures that go with working in a conflict environment, he wants to keep his reporting neutral.
"As a newbie journalist, who already experienced a lot this past year, it's very important for me to give information honestly and objectively, to obey the rules of journalism, not to lie in my reports," he says. "And to share information as a distant observer. So I'm not taking any sides."
The Novorossia Today website is slick and professional, with a breaking news ticker and pages with local and international stories. "We don't just focus on war," says Morozov. "We show school life, the humanitarian situation, sports events. For us it's very important to show the whole picture of life in our Republic."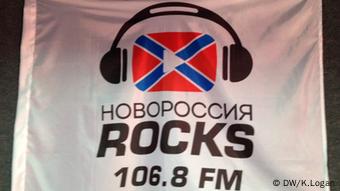 'Novorossia rocks'
The channel broadcasts news bulletins on terrestrial TV as well as online, from a small but well-equipped studio, complete with a new teleprompter and green screen. There is a radio station too, with the slogan 'Novorossia rocks.'
Russian-linked funding
It is not clear who backs the output financially, but a link on the website encourages donors to transfer funds to an account in Rostov-on-Don, which lies across the border in Russia.
The Ukrainian government is also trying to up its information game, with a new media centre in Kyiv opening up at the start of the crisis and a strong focus on developing pro-government channels for an international audience. One of those is the English-language news broadcaster "Ukraine Today." A spokesperson for the channel, Lada Roslycky, told DW: "the media can be used to either create harmony and unity, or mistrust and hate. The Ukrainian government must live up to its obligation to communicate effectively with its population. Proper messaging and communication can mobilize the population to support reforms and peace. Importantly, the Ukrainian population is not stupid, or interested in lies."

Roslycky was critical of the new rebel media, but admitted it might be leading the communications race in the current conflict. "What we see happening is that certain rebel-media outlets have had a good head-start communicating… generating mistrust and fear to promote Russia's foreign policy. In this time of conflict, perhaps more than ever, professionally ethical media outlets carry an enormous responsibility to humans world-wide," she said.

Bringing young, professional people such as Morozov on board has surely helped to boost those rebel media outlets. He, for one, wants to change the image that the outside world has of pro-Russia rebels in Donetsk. "The majority are fed with information from Ukrainian and western media that we're all terrorists here, that we shell ourselves, that we are here all Russian terrorist forces, but it has nothing to do with reality," he says.

The fact that the two sides do not see eye to eye on media coverage of the war in Ukraine comes as no surprise. There are often bitter exchanges on social media and there have been tit-for-tat restrictions on Russian journalists in Ukraine and visa versa in rebel-held areas. But the rebel leadership in Donetsk is learning fast about how to handle its media image and messages, not just locally, but also internationally. The Ukrainian government is trying to do all it can to match that effort.