Donald Rumsfeld, the former US defense secretary who was the main architect of the 2003 invasion of Iraq, has died at the age of 88, his family said on Wednesday.
"It is with deep sadness that we share the news of the passing of Donald Rumsfeld, an American statesman and devoted husband, father, grandfather and great grandfather. At 88, he was surrounded by family in his beloved Taos, New Mexico," the family said in a statement.
"History may remember him for his extraordinary accomplishments over six decades of public service, but for those who knew him best and whose lives were forever changed as a result, we will remember his unwavering love for his wife Joyce, his family and friends and the integrity he brought to a life dedicated to country."
What did Rumsfeld do as defense secretary?
He served in the post twice. Rumsfeld was defense secretary under Gerald Ford from 1975 to 1977 and President George W Bush from 2001 to 2006, before resigning from the position amid the turmoil in post-war Iraq.
Under President Ford, he was the youngest person to ever hold that office after being appointed at the age of 43.
In his second stint as Pentagon chief in 2001 — then the oldest ever at the age of 74 — he promised to slash military bureaucracy, seeking to make it leaner and more agile.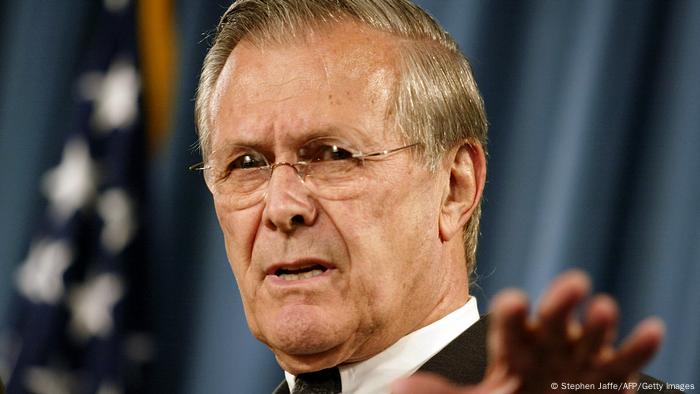 Rumsfeld was a vocal supporter of the Bush administration's 'war on terror'
But the attacks on the World Trade Center in New York put the focus on lengthy and costly military interventions abroad.
Rumsfeld was one of the loudest voices in support of the Bush administration's "war on terror," overseeing the US military's response against Al-Qaida in Afghanistan and backing the use of Guantanamo Bay to detain suspected extremists without charge.
In 2002, his focus shifted to toppling Iraqi dictator Saddam Hussein, with the US leading a so-called "coalition of the willing" made up of a handful of allies such as the UK, Spain and Portugal.
He argued Iraq possessed weapons of mass destruction and that they were a threat to global security, but no such weapons were ever found.
What about his early life?
Born in Chicago in 1932, Rumsfeld graduated from Princeton University and would serve on active duty in the US Navy from 1954-57.
Later, he became a staffer on Capitol Hill and worked as an investment banker.
Rumsfeld, a Republican, entered Congress representing Illinois in 1960 at the age of 30, and was re-elected in 1964, 1966, and 1968, according to his official congressional biography.
In 1975, he took up the position of Defense Secretary for the first time under Gerald Ford, who would later award him the Presidential Medal of Freedom, the country's highest civilian award.
Rumsfeld quit politics for business in 1977, enjoying a successful career in the pharmaceutical and technology industries.
After working in the private sector for 23 years, Rumsfeld returned to his formerly held position, assuming the role of the 21st secretary of Defense in Bush's administration. He was appointed to that role in January 2001.
How have public figures reacted to Rumsfeld's death?
Former President George W. Bush called Rumsfeld a "faithful steward of our armed forces."
"A man of intelligence, integrity and almost inexhaustible energy, he never paled before tough decisions, and never flinched from responsiblity," W. Bush said in a statement remembering his former defense secretary. "He brought needed and timely reforms to the Department of Defense, along with a management style that stressed original thinking and accountability."
Republican Senator Mitt Romney called Rumsfeld a "true public servant" and said his "strong leadership helped guide our country through some of our most challenging times."
Republican Senator Ted Cruz of Texas called Rumsfeld "an American hero."
Others were less glowing in their praise, with the left-wing US magazine Jacobin calling Rumsfeld a "war criminal." Indian historian Vijay Prashad said Rumsfeld "participated in the destruction of Iraq."
Left-wing commentator and prominent Youtuber Cenk Uygur called Rumsfeld a "heartless warmonger" who is responsible for the deaths of "hundreds of thousands of innocent Iraqis."
jf,wd/aw (AP, AFP)