Twice during the course of his professional life, Karl Preissler has had to start again. The 55-year-old's first job was in the National Army of the former East Germany, but following German reunification, that army disbanded and he was out of a job.
After a two-year retraining program in the commercial sector, he found a job with a medium-sized industrial company in Dessau, where he worked for over 20 years in a relatively senior position. However, in 2014 the company fell into insolvency and Preissler, by now in his early 50s, was unemployed again.
His first port of call was his local job center, where an employment advisor went through the options.
"In our meeting we figured out what can I do, what do I want to do, where are the possibilities in the job market, what can develop from it," Preissler told DW. His employment adviser recommended a three-month course in SAP programming - software to manage business operations and customer relations.
"I was quite optimistic because a lot of big companies use that program," he said. So he took a step into the unknown and began the course.
The SPD and labor market reforms
Issues around unemployment such as this and the general well-being of the labor market regularly animate debate in Germany. It's an issue of particular significance for the Social Democrats (SPD) as the last major labor market reforms - known as Agenda 2010 - were introduced by Gerhard Schröder's SPD-Green coalition in 2003.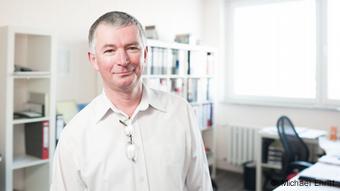 Karl Preissler has bent over backward to get a new job, investing a lot of time in retraining programs
The unpopularity of aspects of the reforms led to many SPD members joining the hard-left party ("Die Linke") and alienated many traditional SPD voters. Martin Schulz, the man who some opinion polls suggest could soon become the first SPD chancellor since Schröder, has promised to make changes to the Agenda 2010 reforms that have underpinned the German labor market since their introduction.
Schulz has proposed a new type of welfare payment for the unemployed – "Unemployment benefit Q" - which would be equal to the initial unemployment benefit payment people receive after losing their job, but which crucially could be extended for up to 48 months, if an unemployed person undertakes a further education or upskilling program during that time period.
German unemployment is currently at a record low, so clearly the current structures must be relatively strong in dealing with unemployment. Nonetheless, if Schulz' proposals focus on further education programs, how effective are such programs in helping an unemployed person find work?
To upskill or not to upskill?
According to German Federal Employment Agency (BA) figures, 49 percent of 1.8 million people recorded as having been in further education programs at some stage from January 2011 to March 2016 were employed in social security-paying positions within six months of exiting the further education program.
Nonetheless, opinion is divided. Schulz' proposal has prompted very different reactions from, among others, the German Trade Union Confederation (DGB) and the German Employers' Association (BDA).
The DGB, a confederation of trade unions which represents over six million workers, is broadly supportive of Schulz' proposals and say the proposal would help "prevent the consolidation of long-term unemployment."
However, the BDA is strongly opposed. Their president, Ingo Kramer, has argued that determining further education requirements should not be state-planned and that the practical, operational requirements of the jobs market and employers should be the most important consideration. Questions were also raised about the potential costs and efficiency of the proposals.
Jupp Zenzen of the BDA told DW that, in terms of the need for providing incentives for further education programs, it was important to make a distinction between those receiving the higher form of unemployment benefit (at least 60 percent of their previous net salary for one year), who often find it relatively easy to find work again, and those receiving the longer-term "safety net" lower rate, known as "Hartz IV."
"About 60 percent of the unemployed persons in the Hartz IV system are low-skilled and we need more effort to upskill them," he said.
The right program at the right time
So how did it work out for Karl Preissler? He did the three-month course in SAP programming, but despite sending around 100 job applications shortly afterwards, he heard little back. "You have to live with that," he says.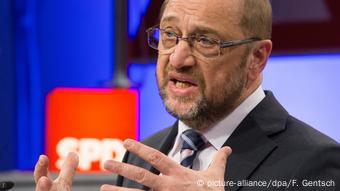 The SPD's hopeful, Martin Schulz, has big plans to modify the Agenda 2010 labor reforms
Preissler persisted and through his advisor at the job center became aware of a furniture and joinery manufacturer in Dessau that was looking for a project assistant in transactions and production planning. The job required further software training but Preissler did a four- week course provided by the company and just over a month after the initial interview he started work.
Almost 18 months on, he is understandably content in his new job and he believes that the further education program he undertook was a significant help in guiding him out of unemployment. Nevertheless, he believes it is important that further education programs are proposed and undertaken with as clear and practical an eye on a future job as possible, and that they are more long-term than short-term, so participants can learn as much as possible.
Those issues come up time and again in the responses to Schulz' proposals around upskilling and further education programs. Professor Lutz Bellmann of the Institute for Employment Research (IAB) in Nuremberg emphasized to DW the importance of longer-term training in helping the unemployed find work.
"Our research revealed that short-term programs were less effective than long-term programs. But of course, it's more expensive to do such measures," he said.
Then there is the importance of effective sourcing of further education programs for the unemployed at job centers - a vital area that requires significant attention according to Zenzen and Professor Bellmann.
Whether or not Schulz' proposal of extended unemployment benefit payments for those undertaking such programs would help the economy as a whole though remains to be seen. First of all, the voters will have to give him the chance to try.