Something's not right with this app. Granted, I'm not the fastest cyclist, but it definitely didn't take me 16 hours to bike 2.73 kilometers (1.69 miles) from my apartment to the Deutsche Welle office in Berlin. The 15-minute trip usually costs less than one euro, but today I was charged a whopping €5 ($6) — for the fourth time. Not exactly the "best deal of the city" — a claim by Ofo, one of several stationless bike-sharing companies who have been flooding Berlin and other major European cities with their brightly-colored bicycles since mid-2017.
Read more: Ambitious bike-sharing startup Ofo raises new funds
From annoying — and costly — technical errors to vandalism, theft and regulation: Dockless bike-sharing in Europe has been plagued with problems so far.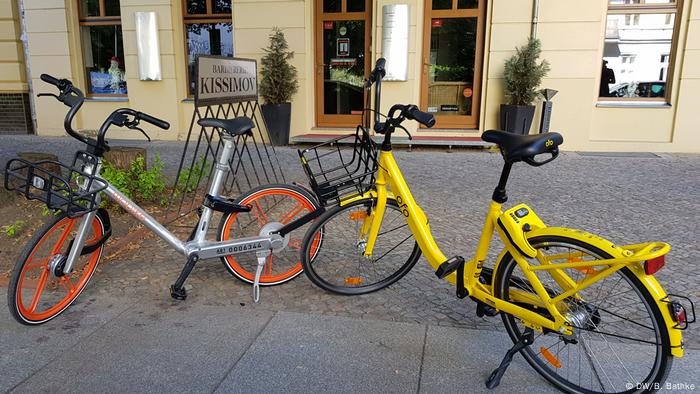 One thing Berlin's four million residents and the 13 million yearly guests can't complain about is a lack of availability — at least in the inner districts
Some 16,000 bikes from no fewer than seven different providers populate Berlin's sidewalks: the four dockless contenders Mobike and Ofo (China), Obike (Singapore), LimeBike (US) and Donkey Republic (Denmark), as well as incumbents Nextbike (dock-based) and Lidl-Bike (dockless).
Tapping into the 'sharing economy' ethic behind Airbnb and ride-hailing apps such as Uber, bicycle-sharing has grown rapidly in recent years, thanks in large part to hundreds of millions of dollars from investors that allowed companies like Mobike and Ofo to wage a costly war of subsidies for market share, both in China and overseas.
The dockless providers' bikes are unlocked with a smartphone app and can be left anywhere for the next user. In Germany's capital, a 20-minute trip on a silver-and-orange Mobike costs €1 ($1.17), while Ofo charges 80 cents for a ride on one of its canary-yellow two-wheelers.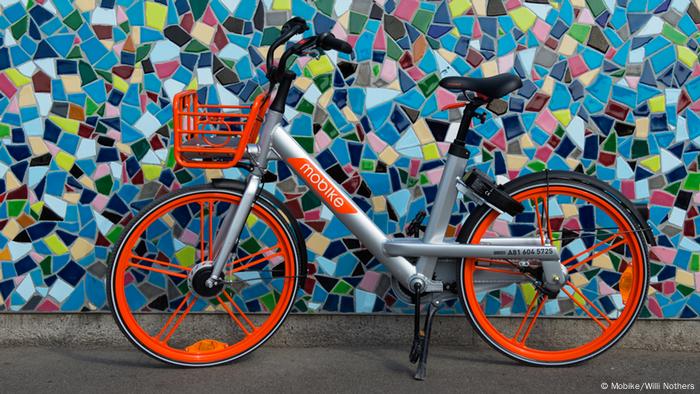 Mobike, founded in January 2015 in Beijing, began its foray into the German market in November of last year by putting 700 of its orange-wheeled, silver frame bikes on Berlin's streets. It claims to have more than nine million bikes in more than 200 cities in 15 countries around the world.
Tough road to profitability
When asked about their ambitions and prospects in the increasingly crowded European market, local representatives of Asian bike-sharing companies are typically confident that demand is high and that their service is well-received.
But critics like market analyst Horace Dediu suspect that Mobike and its competitors won't be able to become profitable just through revenues from rides.
"It's preposterous to expect a significant uptake in dense northern European cities like Berlin and Copenhagen, where bike penetration is already very high," Dediu told DW.
Approached by DW, Mobike's general manager in Germany, Jimmy Cliff, said that Mobike "can be profitable" with its rental bike business alone. He wouldn't, however, share whether Mobike was profitable in Germany for "competitive reasons."
As none of the providers disclose ridership statistics (Mobike's Cliff: "Our bikes are used multiple times a day"), there's no reliable data about the number of daily users or occupancy rate of the some 16,000 dock-based and free-floating bicycles in Berlin.
China boasts 70 million daily riders and 400 million registered users, thanks in part to subsidies and fares as low as one yuan (€0.29 or $0.15) an hour.
Mixed responses by Berlin cyclists
Milena Strathmann, a German business lawyer who splits her time between Ho Chi Minh City, Shanghai and Berlin, says thanks to dockless, on-demand bike-sharing services, she doesn't need to own a bike in each city.
"I appreciate the flexibility I need to keep up my active lifestyle while travelling and working in different cities around the world," the 31-year-old told DW. Still, the overall low quality of the bikes, frequent technical hiccups and inconveniences like low saddles ruin part of the experience for the tall German.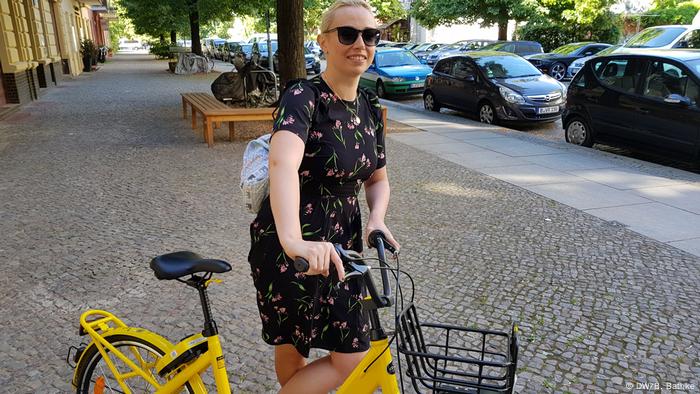 Milena Strathmann says she would be willing to pay more for a sustainable service that doesn't compromise quality
Jasper Zimmermann, who commutes to Berlin from the city of Potsdam by bike and subway, prefers to take his own bike on the subway over relying on a rental bike to bridge the last mile between the subway station and his office.
"For me, a bike pass is both cheaper and more convenient than using a service like Mobike," he told DW. "I always know where my own bike is, and don't have to hunt for one."
In Europe, where the companies have rolled out in cities including London, Paris, Brussels, Manchester and Madrid, city dwellers have been much less welcoming to Asian bike-sharing companies than in China. Singapore-based oBike, for instance, recently pulled out of Zurich after a year of grappling with vandalism and low uptake.
For some time in late 2017, posting destroyed oBikes even became a trend on Instagram.
To be fair, dockless bike-sharing isn't rejected by everyone in Europe. The German Cyclist's Association (ADFC), for instance, says bike-sharing has the potential to reduce congestion and play an "important role" in complementing existing public transport infrastructure, among other things. Yet, the ADFC also said companies needed to comply with European laws and guarantee regular maintenance, and that cities are to provide additional, designated parking areas.
As of March, a new regulation stipulates that providers in Berlin must collect or redistribute bikes within 24 hours if more than four of them cluster on Berlin's sidewalks.
Read more: From Berlin to Cologne, Germany wary of bike-share clutter
The same goes for broken bikes and those blocking foot traffic or access to public transportation. Dorothee Winden, a spokesperson for Berlin's senate, told DW violations could be fined with €3 per bike.
Concerns about data sharing
Aside from doubts about the viability of their business model, critics also suspect that sharing and selling of user data is the Asian providers' primary goal.
"Right now, they try to increase their market share and look at the patterns of behavior on the ground," says market analyst Dediu. "At some point, though, they will commercialize their user data, either through coupons, GPS-based mobile ads or gamified incentives," he told DW.
On request by DW, Cliff said Mobike is neither selling any user data to third parties nor does it plan on commercializing it. "Personal data will always be encrypted and only used for verifying processes, e.g. banking information," he told DW in an email. Mobike does, however, collect and analyze GPS data for internal use. Both Mobike and Ofo, which have raised more than $2 billion in venture capital, claim they have roughly 200 million users each globally.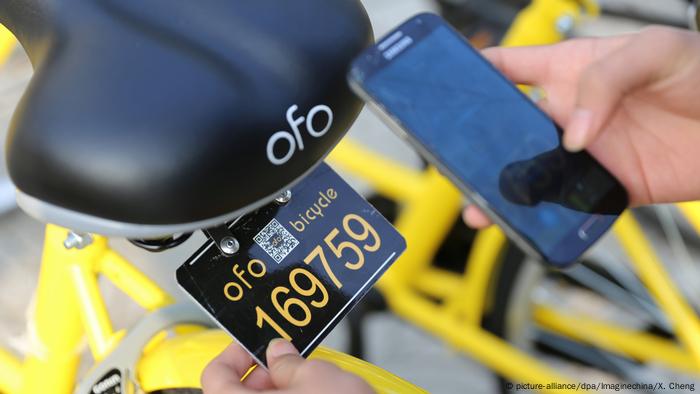 Data will likely play an increasingly important role in the crowded bike-sharing business down the road. Asian bike-sharing companies are backed by major Chinese tech firms including heavyweights Tencent and Alibaba which rely heavily on data to place ads in their competing all-in-one online-services ecosystems
Will the winner take it all?
At this point, nobody can predict if and when bike-sharing will become economically viable. The winner(s) could be those with the most venture capital — in other words: those who can afford to stay unprofitable the longest.
"The typical demands on that capital are for 'all or nothing,'" market analyst Dediu said. "Therefore, bets will be increasingly wild in the hope of finding a natural monopoly."
Still, he predicts a withdrawal of some providers within a year, both due to market forces like low consumer demand (in the EU) and regulatory decisions (in the US).
"Ultimately, only high-end products will stand a chance. If providers compromise user experience, consumers and regulators will reject them," Dediu say. "Around 2020, we'll likely have two to three large players and a few more local ones per country."
For my part, I didn't reject Ofo in spite of being overcharged four times in two days. After I explained what had happened, they promptly promised a full refund.