A young man with a bloody face, his entire left cheek covered in dark blood. He lifts up his jumper, revealing a big, brown bruise, across his chest and abdomen. There is also blood on his hands. These are the types of pictures we see regularly coming from Iraq or Syria, but not out of Ukraine.
'I'll carry on'
This picture was taken on January 30, in a village near the Ukrainian capital, Kyiv. The man's name is Dmytro Bulatov, an opposition activist who had been missing for a week. During his first interview after his ordeal, he said he was kidnapped on January 22 by two men he did not know. He said he was tortured, "They cut off part of my ear, drove nails through my hands, they didn't miss out a single spot on my body."
But he has vowed continue fighting saying, "I'll carry on." A Kyiv court confirmed late on Sunday (02.02.2014) that he will be allowed to travel to an EU country for medical treatment.
It had been unclear for some time whether he would be allowed to travel. Ukrainian police had launched an investigation against Bulatov for taking part in the recent mass unrest as opposition protesters demonstrate against Ukrainian President Viktor Yanukovych. The investigation has now been called off, Ukrainian TV reports.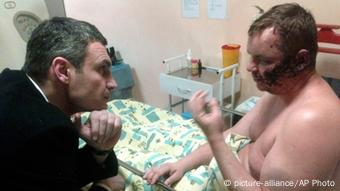 Opposition leader Klitschko visited Bulatov in the hospital
Police had, at the same time, tried to investigate his kidnapping. When officers tried to question him in hospital, his doctors and friends refused them entrance, saying Bulatov was not well enough to be questioned. Apparently, they were afraid he would be arrested.
It is the most brutal in a series of kidnappings of opposition activists so far. Almost all of the victims were badly beaten. One man, whose hands were tied, died of hypothermia in the woods. Some opposition leaders have said "death squadrons" made up of police and criminals are targeting activists. There is no hard evidence to backup their claims.
Automaidan's leader
Why was Bulatov a target and why is it that the bloodied face of a 35-year-old husband and father, who just a few months ago was posting smiley holiday snaps to his Facebook page, has become a symbol of the protests in Ukraine?
Bulatov is one of the leaders of Automaidan, a group of mostly young people who have been staging motorcade protests since the beginning of the protests last November. They decorate their cars with European Union flags then drive through the capital to drum up support for the protests on Kyiv's Maidan, or Independence Square.
Pro-Europe protests started last autumn
Last December, hundreds of these activists, including Bulatov in his VW Polo, drove to the president's residence near Kyiv. They did not get very far, as police blocked the road.
Automaidan activists tried to put pressure on other prominent government officials by driving to their homes to stage protests. While demonstrating in front of Interior Minister Vitali Zakharchenko's house, one of the activists threw a dead fish over the fence, calling for his resignation over his involvement in ending a peaceful protest with violence.
Automaidan supports Klitschko
Bulatov was also involved, albeit indirectly, in the most recent events in Kyiv. At a rally on January 19, he took the stage and demanded that opposition politicians agreed on one leader. But they refused.
Some of the demonstrators then made their way to parliament, via Hrushevsky Road. When they came across police roadblocks, some protesters began throwing Molotov cocktails. Police responded by using teargas, rubber bullets and stun grenades. The incident turned into an unprecedented week-long street battle.
But Bulatov and other leaders of Automaidan distanced themselves from the violent protesters. "Today, a terrible thing happened," they said in a January 19 declaration. "Those coordinating Automaidan couldn't agree, some called on the protesters to go to the parliament building," it read.
Bulatov wrote that he was against "gratuitous violence" and bloodshed. Shortly before being kidnapped Bulatov said Automaidan recognized Vitali Klitschko of the UDAR party as the leader of the protests. Klitschko was one of the first visitors Bulatov received in hospital.