Nearly one-sixth of the world's population exists in extreme poverty -- defined by the United Nations as having less than one dollar a day to live on -- and the divide between the poor southern hemisphere and the wealthy north is becoming ever wider. In September 2000, the United Nations laid out seven goals it wanted to achieve in the new millennium. They included the eradication of extreme poverty, the reduction of child mortality and improving the health of mothers.
The world's leading industrial nations promised that they would increase spending on developmental aid to 0.7 percent of their gross domestic products by the year 2015. But there are few signs that they are on their way toward fulfilling that promise.
In Germany, for example, achieving that target would mean doubling the amount the country currently spends on developmental aid.
Aid decline after the Cold War
"I can't really see it happening at the moment," said Markus Löwe of the German Development Institute in Bonn.
Expenditures have risen in the past few years, but that is primarily the result of debt-forgiveness programs. And the long-term picture is different. In the mid-1980s, public development aid in Germany stood at 0.5 percent of GDP. By 1998 that figure had fallen to 0.26 percent. This was due largely to the end of the Cold War, when Germany's shifting priorities led to a decline in development aid.
Norway, Sweden and the Netherlands have all met the 0.7 percent target. In comparison, Germany is lagging far behind.
"Healthy Skepticism"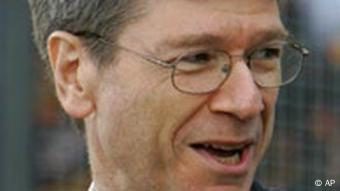 Jeffrey D. Sachs hopes donors will meet their targets
Nonetheless, Jeffrey D. Sachs, the American economist who is the director of the United Nations Millennium Project, says he's confident that Germany will keep its promises. Berlin has also pledged to raise the percentage of its gross national product spent on aid to 0.56 percent by 2010 -- an important intermediary step toward the 2005 target.
But the UN's Special Envoy for HIV/AIDS in Africa, Stephan Lewis of Canada, is more cautious. "Jeffrey Sachs is simply accepting the words that were uttered by the German government at the Gleneagles summit in 2005," Lewis said. "He may well be right, but we won't know until 2015."
Lewis has had bad experience with nations not keeping their word. "I have a healthy scepticism about the tremendous divide between promise and performance," he said. "I have to wait and see what's going to happen. I can't be persuaded that it will happen."
High Hopes for Merkel
But Sachs and Lewis do credit Germany with putting developmental aid high on the agenda for its six-month tenure as EU President.
"I assume that Germany at this year's world summit, with the rest of their colleagues in the G8, will help to ensure that this will happen," Sachs said.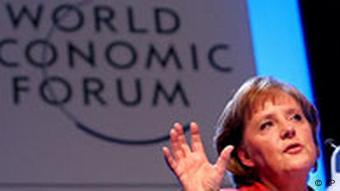 Merkel has stressed the aid issue in recent speeches
Christoph Benn, director of external relations for the Global Fund to Fight AIDS, Tuberculosis and Malaria, credits Chancellor Angela Merkel for Germany's renewed commitment.
"Germany has an international leadership role this year," Benn said, "and Ms. Merkel is very conscious of that fact."
Benn added that Merkel's speech to the World Economic Forum last week offered lots of reasons for optimism. The Global Fund gets 80 percent of its money from G8 nations and had difficulty paying its bills because donors were late in transferring pledges.
Even Lewis sees a change in Germany developmental aid policy. "The position of current German chancellor seems to be much more energetic in terms of support for the needs of Africa and the needs of international development," Lewis said.
But he cautioned that 2015 is a long way off, and there was no telling what the G8 nations may do in the meantime.
Norway as Role Model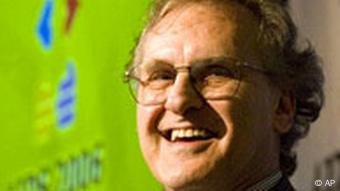 Stephan Lewis says the time to start fighting poverty is now
Lewis thinks there's no reason to wait that long, pointing out that the UN actually agreed the 0.7 percent target more than 35 years ago. Most countries have put off trying to achieve that mark, but Norway and Sweden already devote 0.94 percent of their respective GDPs to aid. That shows, according to Lewis, that increasing monetary help for the world's poorer regions does not harm national economies.
Lewis calls upon the G8 nations to act now. "I don't think we should be waiting until 2015. If the Norwegians can do it today, the G8 can do it today."