It is 7:30 in Idomeni and the police is everywhere. The removal of stranded Afghan refugees is underway, but journalists are not allowed to monitor the procedures.
This is not the first time something like this has happened. Two months ago – in early December – Idomeni was cleared of all refugees and migrants who were not from Syria, Iraq, or Afghanistan.
The evacuation goes on for a long time and only limited information is given to the press. The Greek authorities are saying Afghan refugees will be taken back to hotspots in Athens, but these are already full from the thousands of refugees and migrants, who arrived at the Port of Piraeus the previous days.
The part of the hotspot in Schistos that is ready can only hold some 1, 500 people at the moment, while the whole camp later will have a capacity of 4,500. At the same time rumors are circulating that the refugees may be taken to the newly built hotspot at Diavata near Thessaloniki; Although just a rumor, people are speculating that this may be happening to avoid tensions with local residents. Protests and rallies have become a commonplace the past few days because refugees are not welcome by the residents of Diavata.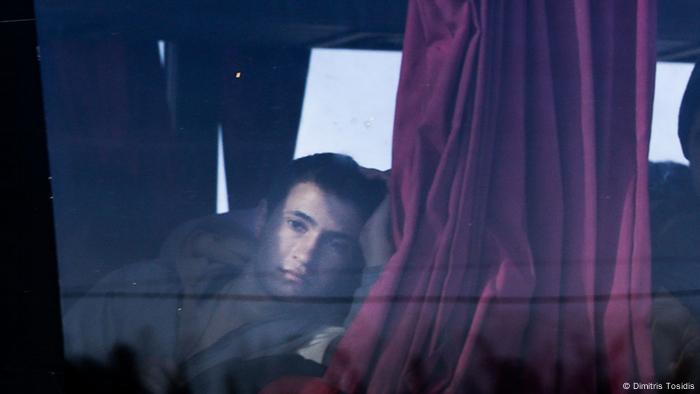 A young Afghan looks out a bus window, not knowing what will happen to him
Stuck in limbo
As Afghan refugees arriving in Idomeni were desperate for information. "When are we going to be allowed to cross? Do you know when the borders will open? Why don't they let Afghans continue?"
As more and more people arrived, tensions were rising until refugees started protesting for open borders and passage to Macedonia. Later in the day, they managed to break through the police blockade and run towards the border crossing area. But, the train line is closed and the road crossing is closed, trapping thousands of refugees.
"We will not go back, we will stay here. We will die here, but we will not go to back to Afghanistan. We don't want food," says a handwritten banner from yesterday's events in Persian.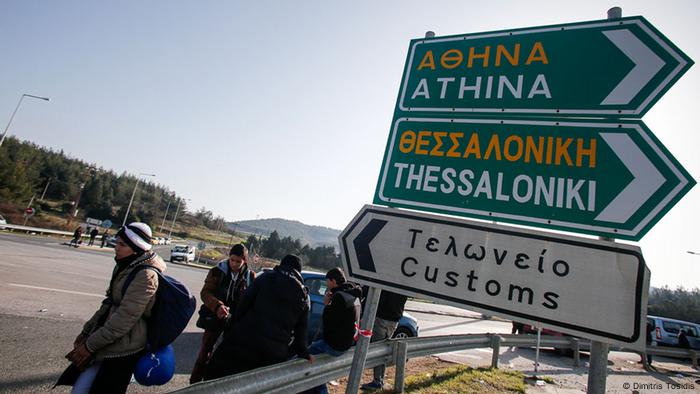 A group of refugees rest for a moment on their way to the Idomeni camp
Taken by surprise
Local Greek authorities, on the other hand, were taken by surprise. They were not ready for such a development. "We were not expecting this, we were not prepared for this," said one official, who wished to remain unnamed.
And indeed, they were not prepared. The evacuation was still under way in the early afternoon. Some 750 people were put onto buses until there were no buses left. 250 more were left waiting in lines controlled by the police to be sent later to the hotspots.
Desperate as they were and unwilling to return to Athens, some groups started walking towards the new camp: a parking and rest area of a gas station 20km from Idomeni.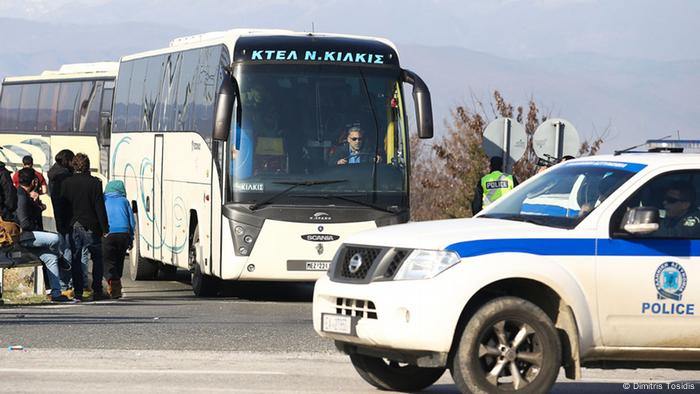 Buses full of frustrated Afghan refugees head back to Athens
Ali, a 25 year old Afghan refugee who is traveling with his two sisters, their husbands and their children still hopes that the border will open again for Afghans, not knowing that the current situation is not likely to change soon. "I left Afghanistan because of insecurity, I will not go back to Athens. I have no money left. I want to go to Germany," he said in broken English.
What everyone is wondering, though, is why Afghans are allowed to go to Idomeni with ferry and bus tickets worth of €100 each when the borders are closed? Why do the Greek authorities not inform the Afghans that they cannot continue their journey towards Germany? But, most importantly, how will Greece be able to manage such a humanitarian disaster with facilities that are not ready yet?
What everyone can say with certainty, however, is that the refugee crisis is not going to stop anytime soon. Idomeni will still be the main gateway to northern Europe – at least for the near future – and the same story will keep repeating itself.
By 4:30 in the afternoon, Idomeni was back to normal. Everyone had been loaded into buses and only a small group of people still remained on the train lines.